GEMMA BILLINGTON
artist return
https://www.independent.ie/life/home-garden/homes/peek-inside-artist-gemma-billingtons-kerry-dreamhouse-with-seaside-views-to-die-for-34876358.html
Peek inside artist Gemma Billington's Kerry dreamhouse with seaside views to die for
When artist Gemma Billington found her dream home, she felt it would be a perfect location for creating her lush landscapes. Now she has other, more intriguing, ideas.
July 18, 2016
People talk a lot about their 'dream house', and the 'house of their dreams' but usually they just mean the house they'd like to have - rarely have they actually dreamed about it.
Artist, entrepreneur and yoga teacher Gemma Billington is different. There was a house in her dreams, a house that kept cropping up, and, yes, she does now live in it. "I had a recurring dream about a house. I must have dreamed about it five times over several years," Gemma recalls. "Each time in the dream, I was on a height, I was walking along a path, then I'd go round a bend and see this house overlooking water. My father was in the dream, too. He was always in the dream, him and a chest of drawers, and I couldn't close the drawers."
Gemma's main base is in Royal Bucklebury, in the Berkshire countryside in England - think Midsomer Murders turf - where she has lived for over 30 years; during that time, she has reared a family, trained as an artist and established a solid reputation for her paintings. She has also become a key member of the local farming and horsey set, so it never occurred to her that she would one day find the actual house of her dreams in Kerry.
However, she did love Kerry; she spent her early years there, and though she lived in many parts of Ireland before making a life for herself in England, she has always returned to the Kingdom.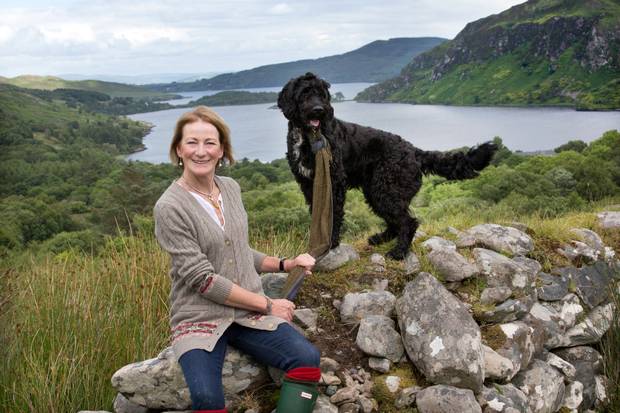 "I was born in Killorglin. I lived there until I was four, then we moved to Killarney. My father was a garda sergeant, and we moved every two-and-a-half years after that. We lived in Ballina, Co Mayo; then back to Kerry, to Caherciveen; then Gort in Galway," Gemma says in her wonderful Kerry accent, blended with British Home Counties' tones.
Then tragedy struck the family. "My mother died when I was 14. There were ten of us; the eldest was 27 and the youngest was eight, and my father retired and moved back to Killarney." The vivacious blonde recalls, "He never got over losing her. It was awful. It's only when you become a mother yourself that you realize the loss."
After her mother died, Gemma's father sent her back to Galway to boarding school, but she returned to Killarney as soon as she had done her Leaving Cert, and at 21 she married her first boyfriend. It's hardly surprising that it didn't last, and after 18 months, they split up. "Even though I knew it was the right thing to separate, it was the hardest decision to leave the marriage. And in those days, over 30 years ago, there was no way I could stay in Killarney, I was like a scarlet woman. People were talking about me, looking at me," the chatty artist explains.
Gemma went off to London and found secretarial work - she had worked as a secretary in a firm of architects in Kerry, so it was an easy transition to work with an accountancy company in London. She met another Kerry man called Johnny Byrne, but she was determined not to walk into marriage again. "When I was young, I used to say, 'I'm going to be a nun', and so when my first marriage ended, I thought, 'I'll join the missions'," she says, laughing. "I went to South Africa where my sister was living with her German husband. They had a food business there, and I used to help out, but you know what, I couldn't cope with apartheid. I thought it was so wrong. So I came back to London, and married Johnny."
They stayed together eight years and had two sons, William (now 32) and Nolan (30) both of whom work for Johnny's building company; and a daughter, Julianna, who is an artist like her mother.
Gemma and Johnny split up in 1990, and soon afterwards she met Tim, a farmer. "He only lived five or 10 minutes away from me, and I'd seen him at village things. They're very good in England at inviting you to meet the local single man, and I was invited to supper to meet him. Anyway, he pursued me, and we married in 1991," she says with a laugh.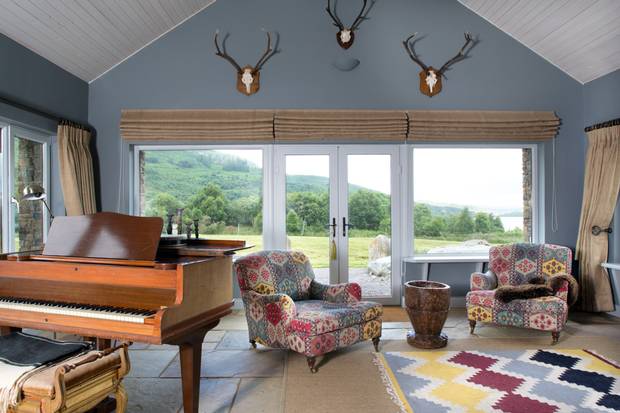 Gemma's daughter, Julianna, also an artist, plays the piano when she visits;
the stags' heads are her sons' trophies from a shoot in Scotland where the deer were being culled.
Tim had been widowed twice, and had four daughters, Victoria, Susie , Harriet and Felicity. The girls are older than Gemma's kids, but they all blended well, and the couple brought up them together. "I feel there's a time and place for everything and I feel Tim and I really needed each other at the time," Gemma says. "It was full-on with seven children, but they're super-duper girls. I get on really well with them. I love them."
Tim continued to farm for a time, and then the couple got into horses with brood mares. They've had some success with Rivireen, Kilreelig and Valentia. "We take our mares to the stallion and as soon as the mare has had a foal, she's straight off to the stallion again," Gemma explains. She adds that they keep some of the foals, and form syndicates with friends and neighbours and other interested groups.
Her great friends Mike and Carole Middleton were in one of their syndicates for a horse called Sohraab. "A well-known trainer called Hughie Morrison trains them for us," Gemma explains, adding that she also has a horse with her nephew in Mallow, Jim Culloty, who has ridden Gold Cup winners at Cheltenham three times.
While it's always been hard work with the farm and the combined families, Gemma, who's something of a dynamo, says she was always doing courses, and when her youngest started school, she studied for an art degree at Winchester College. She graduated in 2000, and from then on, art was her outlet. "I could drop Julianna to school, do my studies, and then, after my classes, I'd collect her from school," Gemma explains.
It wasn't always easy, and Tim, in particular, had a very hard time: first with illness himself, and then his daughter, Susie, died six years ago of a heart condition, leaving Tim, Susie's husband and three children bereft.
Throughout the years, both good and bad, Gemma kept painting, and she says it kept her sane. "I couldn't wait to paint, and all my inspiration comes from Kerry. My paintings are not of places, they're of the inner landscape. There is something about Kerry - it takes you out of the landscape and in, deep into the landscape," she says, trying to explain the meaning of her fabulous paintings, which are abstract.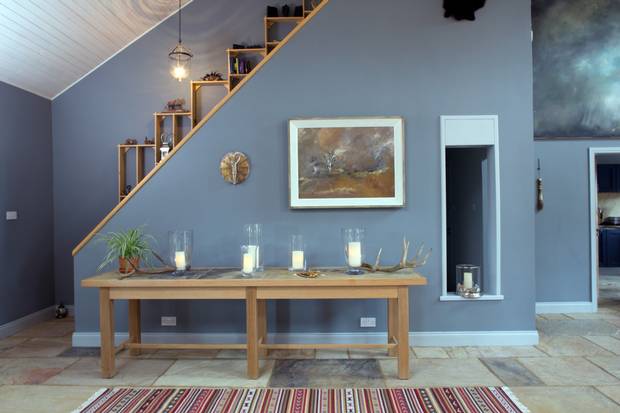 Gemma had the walls painted in Colourtrend's London Road.
Gemma's builder made the lovely table, which is inset with local stone.
She goes on to explain her method: "I don't use brushes, I paint with my hands, and I meditate before I paint."
Gemma's painting led her back more and more to Kerry, and, some years ago, on one of her trips back, she happened on the house of her dreams, literally.
She had driven out to Caragh Lake with her friend Peig, and drove up the mountain. "We turned a bend and saw this house, and I said to Peig, 'That's my house'," Gemma recalls. "I went back to England, and later in the week, Peig called to see the owner, but he said, 'It's not on the market'. Eighteen months later, I was idling on the internet and saw it, 'My god, it's for sale'. That was four years ago last April."
When Gemma bought the house - a stone building, with massive expanses of glass, to take full advantage of the views of the surrounding lakes and mountains - it was a shell, and she decided to keep it fairly simple. There was no second floor at the time, and she opted not to add rooms over the main living space - which incorporates the kitchen, the dining area, and the living room - instead, keeping that area double height, with exposed beams. Off it, is a music room at one end, and two bedrooms and a utility area at the other end.
She added an upstairs bedroom and a stairs to access it, and then set about furnishing the whole house in a very particular way. "Skellig Rock had a big influence on the way I looked at it. Dwellings exist to protect us from the elements, and that's what I wanted - simple protection. So I kept everything natural. When I'm painting, I haven't a clue, one stroke leads to another, and it was the same with the house. I had a lovely builder and it all evolved; it was so easy, so stress-free," she notes.
The builder put in natural oak beams, panelling and units, and Indian sandstone on the floor. Gemma then put lots of sheepskins everywhere. Even the curtains are natural. "At the beginning, I had thought, 'no curtains', but I realised I'd need them for warmth.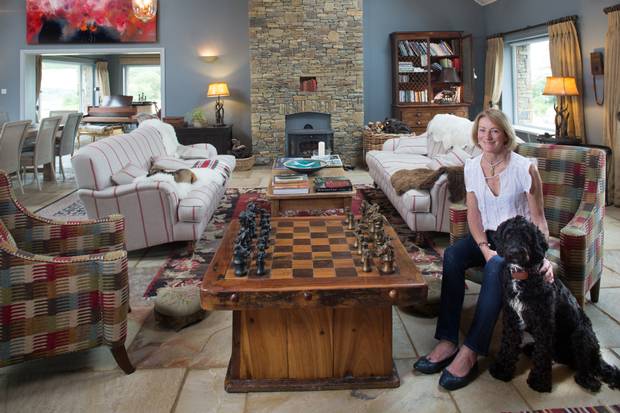 Gemma and Finn in the living room. The stone surfaces are softened with lots of sheepskins and rugs,
and the neutral colours are enlivened by her own paintings. Gemma loves to meditate and, she says, Finn does too.
"People suggested tartan might work, but I said, 'I'm not in Scotland'. Then I hit on the idea of sacking. It's used for sandbags for flooding in England, and I thought that would be perfect. It's cheap as chips, but of course lining and interlocking made them very expensive," she laughs.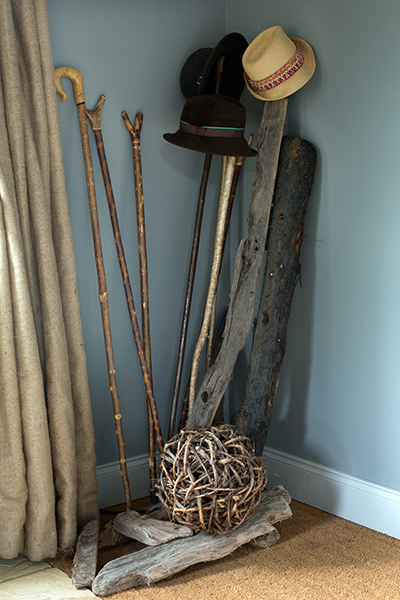 Some of Gemma's collection of hats and walking sticks, both essential for the elements in this area. The curtains are made of sacking as Gemma wanted all the furnishings to be natural; they are all lined and interlocked.
Gemma also added a wonderful studio separate to the main house, just a few steps from her back door. She initially thought it would be her painting studio, but she has since had other ideas. "When I'm painting, I'd often ask myself, 'What am I trying to do?' I always thought I would create a healing space with my paintings. When I started painting, I wanted to make the world a more peaceful place, but then I realised the paintings are hanging in a gallery; that's not helping anyone."
It's something she's been ruminating about for years, and has finally come up with an answer: she wants to help people to heal. "I'm the seventh daughter of a seventh son. At least, I think I am. I am the seventh daughter, and I think my father was the seventh son. I said it to one of my family the other day, and she disagreed. I said, 'Don't spoil a good story, I've been dining out on it for years'."
Though she explains her role as a healer in a light-hearted way, she is quite serious. "What I want to do is to create here a meditative space, and invite people to come to my studio to do meditation and mantras and chanting. I want to do workshops to awaken people's creativity," Gemma says.
The meditation and mantras are not a new thing; Gemma has been practising yoga for years, ever since her good friend Carole Middleton introduced her to kundalini yoga when the two couples, Tim and Gemma and Carole and Mike, were on holiday in Mustique.
"It's a yoga for everyday living. Let's say I've got a bit of an upset tummy, there would be a kriya, a set of exercises, for exactly that, to relieve your symptoms. There's the kirtan kriya, which is marvellous for relieving stress. There's a vibration for every part of the body, one for calming the heart, the liver. It sounds crazy, but it's not," she says. She gets up before sunrise every day to do her yoga. "I always wear white, I cover my head and I do the exercises for my bodies. We have 10 bodies," she explains.
Gemma also does gonging meditation - a sound therapy in which participants lie down and take in the hypnotic vibrations of Gemma's different gongs. Reiki is another passion, and she's off soon to Ibiza to train as a reiki master.
She also adores cooking wholesome meals - including her signature brown breads, full of seeds and nuts - and she loves to cosset people with her creations.
Between the gonging, the yoga, the reiki and the cooking, she plans to spend more time in Kerry running workshops in the beautiful surroundings of her stone home, which she feels she was led to by her father. "I remember one day looking out the top window at the lake, and I realised that was where he had fished," she says.
So that leaves just one piece of the dream unsolved - the drawers that wouldn't close. "I think at the time I was having the dreams, I was overburdened," she says. "Not any more."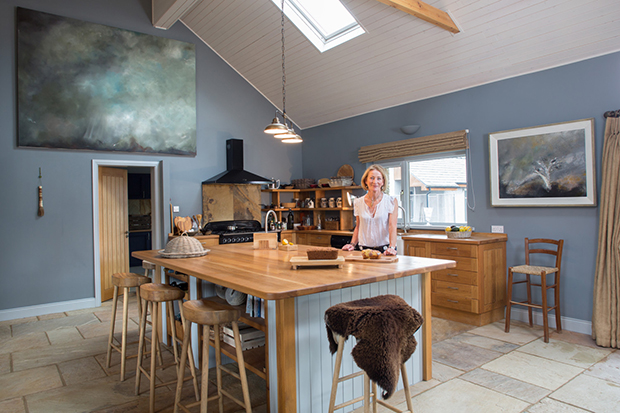 Gemma in the kitchen area of her open-plan home, which is full of light with its double-height
ceiling and large expanses of glass. The painting over the doorway is by Gemma.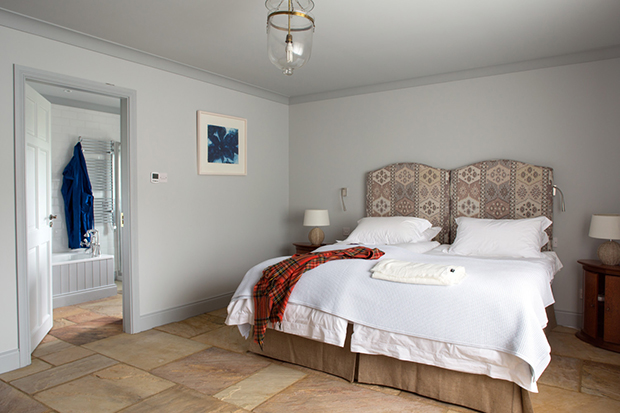 There's Indian sandstone on the floor throughout the ground floor, including in the bedrooms, which are all en suite.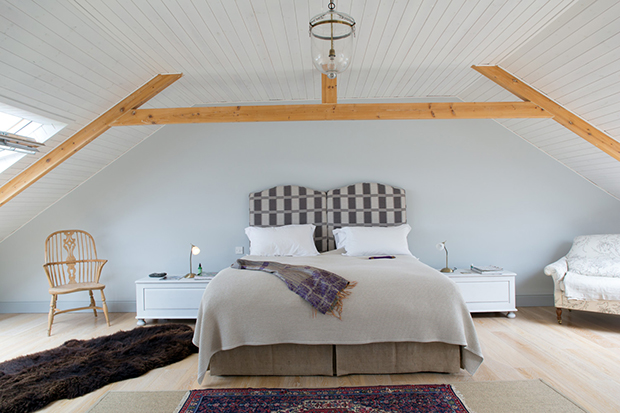 The valances on all beds are made of sacking. This upstairs bedroom has stunning views of the lake.
It was here that Gemma realised that her father used to fish at the very spot on the lake which is visible from her top windows.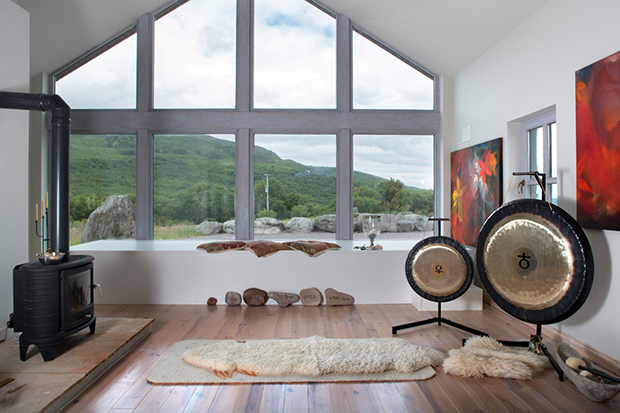 Gemma's studio, where she holds her meditation and gonging sessions is
comfortably but simply furnished to avoid any unnecessary distractions.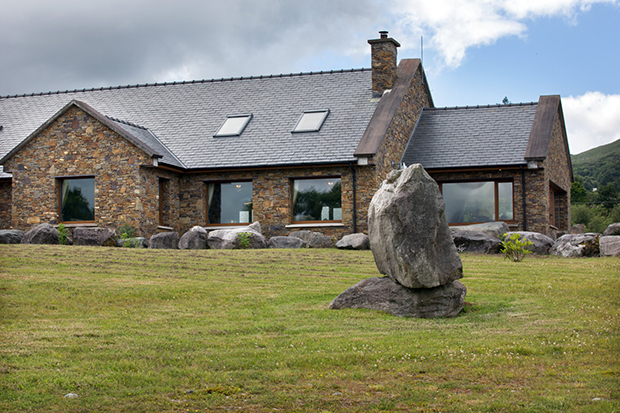 The exterior of Gemma's house, which she finally bought after seeing it for sale on the internet.
Edited by Mary O'Sullivan.
Photography by Tony Gavin
Sunday Independent