GEMMA BILLINGTON
artist return
https://www.irishtimes.com/news/prince-s-girl-adds-glitz-to-pal-s-art-opening-1.1200194
Prince's girl adds glitz to pal's art opening
Wed, Apr 4, 2007
Miriam Lord
Thanks to the men of 1916, we pretend not to get excited about royalty from across the water. And certainly not in Easter Week, with a glorious parade commemorating the Rising ready to roll this Sunday.
But Kate Middleton isn't queen yet, so that's alright. Although as Prince William's long-term girlfriend, she's as near to royalty as you can get.
Which explains the large turnout of photographers last night at an art exhibition in Dublin's trendy new Hanover Quay district. Ms Middleton - not yet the new Princess Di but on the fast track to global fame according to those in the know - was in town.
She was on her first visit to Ireland to support her Berkshire neighbour, artist Gemma Billington, who opened her first solo exhibition at the new Urban Retreat Gallery. The Kerry-born artist is showing pieces she painted during two stays at the Cill Rialaigh Project in Ballinskelligs.
While the paintings on display were captivating, it was Kate Middleton who commanded the attention of the paparazzi.
But the Irish media are far less intrusive than their English counterparts; Prince William's sweetheart was snapped from a discreet distance. Requests for a few words were politely declined with the explanation that she doesn't do press interviews.
However, we understand that the young socialite, who flew by private jet to Dublin with her mother Carol and a large party of friends, was delighted to find that she was largely unrecognised during her brief trip.
Tall and thin, the woman who might be the next queen of England was dressed in a demure, fitted navy suit with shower of hail pattern. She wore very little jewellery, save for a diamond-studded ring.
Artist Gemma Billington is certainly well connected. Three times married, her second husband sponsored last night's opening and brought along his friend from Sunderland FC, Niall Quinn, to do the honours.


https://hrhduchesskate.blogspot.com/2016/11/kate-loves-arts.html
Saturday, 19 November 2016
Kate Loves: The Arts
. . .
Irish artist Gemma Billington was a neighbour of the Middletons; her children went to the same school as Kate, and Gemma and Carole forged a strong friendship that remains today. Kate is said to have thoroughly enjoyed speaking to Gemma about the creative process behind her work, and in 2007 travelled to Dublin to attend the artist's first solo exhibition at the Urban Retreat Gallery (with thanks to talented photographer Angela Halpin for the kind permission to use her photo of Kate at the event; you can view the full set here).
Smiling for the camera, enjoying the paintings and sipping champagne, little did anyone know Kate was actually going through one of the most difficult periods of her life. Just a week or so before Prince William had called time on their romance; the brief break allowed Kate to gather her thoughts before returning to London where news of their split would soon break and a media frenzy was about to erupt.
Gemma Billington shared the following quote in 2007 describing the Middleton family as "very close" and Kate as a "lovely girl", adding: "Kate is a lovely girl who is just one of our kids who just happens to be going out with a boy called William who happens to be a prince. He's just a normal boy, really. Whoever you happen to be going out with, you have to take the rough with the smooth." Gemma was a guest at the royal wedding and remains a very close friend of Carole and Mike, joining the Middletons in Mustique for holidays. Below we see Carole and Gemma, pictured March 2016, at the opening of 'Beyond The Beyond' at the Hay Hill Gallery in London.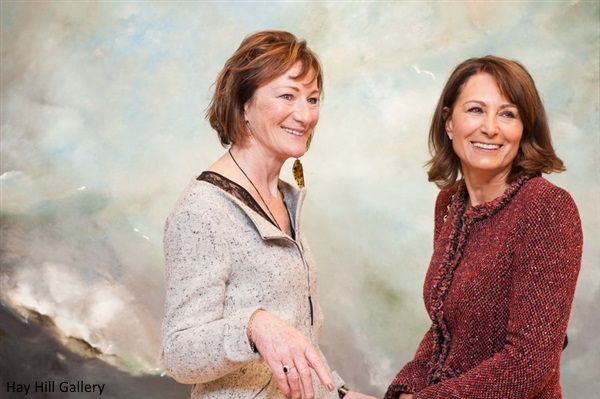 I'm always interested to know the inspiration behind paintings and was keen to read more on Billington's earthy yet ethereal works. More from Hay Hill Gallery: 'Her paintings of dark and light eschew traditional painting techniques - she uses her bare hands to apply raw pigment to canvas, and the result is, to say the least, fascinating – I was certainly mesmerised when I learned she does not uses brushes at all. Gemma draws inspiration from the timelessness of nature and its ever changing patterns; her paintings feel like Baroque versions of Turner, where dramatic chiaroscuro meets abstract sublimity. They are imposing, yet serene. A raw intensity is conveyed through bold marks of textured colours and abstract imagery, which is both contemplative and meditative. "When I am in my studio I am untethered by position or possibility," explains Gemma.'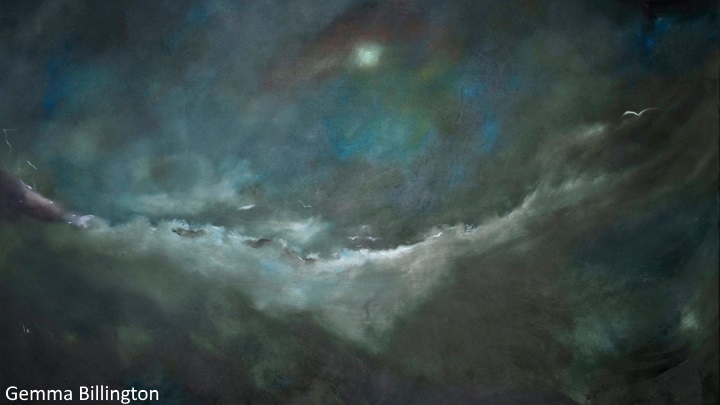 . . .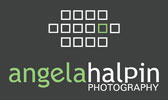 http://angelahalpin.photoshelter.com/gallery-image/Social-Events/G0000DUIoWQNykJA/I0000eAr2i9fwjqY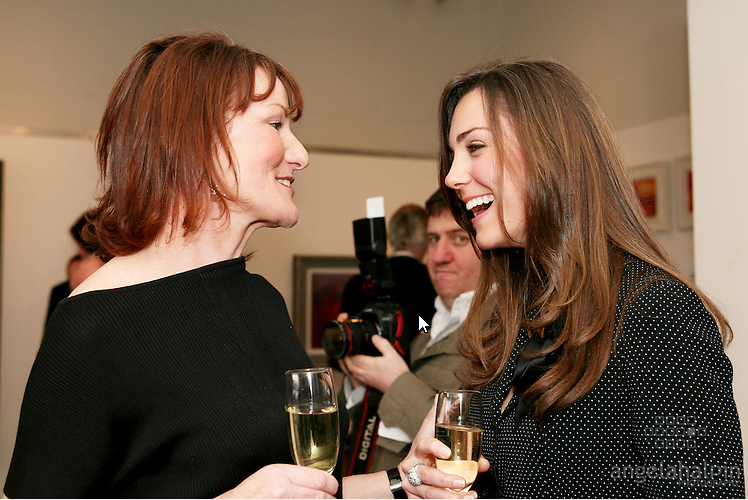 Artist Gemma Billington, who opened her first solo exhibition at the new Urban Retreat Gallery. Kate Middleton arrives at an art exhibition in Dublin's trendy new Hanover Quay district. Copyright: Angela Halpin
https://www.irishcentral.com/opinion/amyandrews/the-lucky-irish-who-made-it-onto-kate-middleton-and-prince-williams-wedding-list-120855489-238081831
The lucky Irish who made it onto Kate Middleton and Prince William's wedding list
Amy Andrews @IrishCentral Apr 28, 2011

There will be some lucky Irish faces in congregation at Westminster Abbey William and Kate's big day on Friday. Here is a look at who will be representing Ireland.

Gemma Billington an artist originally from Killarney in County Kerry is a close family friend of the Middletons.

She has known the princess in waiting since she was a child and lives close by to Kate's family in Stanford Dingley in Berkshire, England.

In 2007 Kate was a guest at her first solo exhibition in Dublin.

Hilary and Galen Weston will also be attending the event. Hillary is a former lieutenant-governor of Ontario. Her husband Galen is one of the richest people in Canada and owns Selfridges in London as well as the Dublin department store Brown Thomas, A-Wear and BT2. The couple are friendly with Prince Charles.

Both Cardinal Sean Brady and Antrim born Cardinal Keith O'Brien will be among the religious members at the wedding.

Brady's role in the peace process is believed to be one of the main reasons he was invited.

Two Irish designers Phillip Tracey and Paul Costelloe will be in attendance. The renowned designers are believed to have both created once off piece for the bride to wear in the aftermath of the wedding celebrations.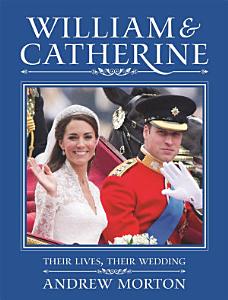 Book 'William & Catherine: Their Lives, Their Wedding'
by Andrew Morton, 2011, Michael O'Mara Books
. . .
In April 2007, when Clarence House unofficially let the world know that the romance between William and Kate had run its course, few of her friends shed a tear. The prevailing reaction of most of them was, 'Thank goodness that's over.'
For years they had watched helplessly as Kate, whose university dissertation had been on Lewis Carroll, had gradually disappeared down the royal rabbit hole into the Windsor wonderland, leaving her friends out in the cold. 'During her time with William she upset a lot of friends by not making the effort to see them,' noted one of her circle.
As she mourned a failed relationship, she turned back to her family and friends. In mid-April, just days before the break-up was announced in that unofficial court circular, The Sun, she joined her mother in Dublin to support their friend, the landscape artist Gemma Billington, at her first solo show. Demure in a polka-dot dress, Kate smiled for the camera but kept her own counsel.
She maintained a similar silence in the days that followed. All her friends offered the same advice: keep smiling, keep busy, just carry on. Even the Prime Minister, Tony Blair, argued that the couple should be allowed to 'get on with their lives'.
. . .
As one of his close friends told me: 'He thought he could do better, but realized very quickly what he had given up. William saw pictures of Kate coming out of Boujis or wherever looking stunning and without a care in the world. Quite frankly, he didn't like the idea of another guy enjoying a roll in the hay with his girl. They had had an up-and-down relationship at St Andrews because of his refusal to commit. After the break-up he realized what he really wanted in life. A kid from a broken home finds love, affection and warmth in a stable, steady family." In effect, Carole and Michael Middleton were the ace with which Kate trumped a future king. As family friend Gemma Billington observed, 'The Middletons are a very close family who have meals together, watch movies, play sports and go on holidays together.' Just what William wanted. His split from Kate had lasted just five weeks.
There was, however, one casualty of this romantic reunion: Kate herself. Or so some of her girlfriends believed, feeling that she was giving up independence for conformity, adventure for safety. When she pulled out of the dragon-boat race in August with just a week to go, their worst fears were confirmed.
. . .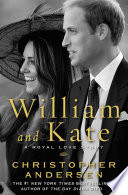 Book 'William and Kate: A Royal Love Story'
By Christopher Andersen, 2011, Gallery Books
. . .
Kate told her mother and her sister that William had "changed"—the result, she believed, of the physical distance between them and the enormous strain that distance was putting on their relationship. "I think it's really tough on her," said artist and longtime family friend Gemma Billington, "but she handles it well. . . . It's funny how you think people are different, but we are all just muddling our way through life. Whoever you happen to be going out with, you have to take the rough with the smooth."
Things were, in fact, far more serious than Kate imagined. Now that he was embarking on a military career, William complained that his relationship with Kate felt "confining" and "claustrophobic." More important, the recurring nightmare he was having about her being chased to her death by the paparazzi was making him ever more anxious.
William went to his father for guidance. Ironically, Prince Charles's affection for Kate was precisely what led him to recommend dumping her. He did not bother asking if Wills and Kate were in love; when asked that question after proposing to Diana, Charles famously answered, "Whatever love means." But he did ask his son if he planned to marry "in the end."
Pointing out that he was just shy of his twenty-fifth birthday, William told his father he was not ready to promise marriage to anyone. Then end it now, Charles urged his son. By stringing her along, Papa said, William was being "completely unfair to Kate." Equally important, Charles, who had been pressured by his own father to marry Diana, was not about to make the same mistake with his own son.
Charles knew from experience that William was likely to be seen as a cad for callously breaking up with the loyal Miss Middleton for no apparent reason. Before handing his poor grandmother yet another public relations grenade, it was best to give her fair warning. Rather than approach the Queen directly, William asked his grandfather, Prince Philip, to convey the news to her.
"The Queen was disappointed, of course," a former Palace equerry said. "Prince William and Miss Middleton had been together such a long time. But it was not the Queen's decision to make. She did not wish to interfere one way or the other. She did not want him rushing into a commitment if he wasn't absolutely certain this was the one."
Eager to escape from the London scene, Kate joined her mother in Dublin for Gemma Billington's art exhibition at the city's Urban Retreat Gallery, followed by a quick visit to the National Gallery of Ireland. It was a very different scene back in Dorset, where Wills and his fellow Booze and Royals officers were causing a commotion at a bar called Bliss. An audience of several hundred had paid to hear acoustic guitarist Dan Baker. "This gig," Baker later said, "was the chance to perform like this."
Baker was in the middle of a song when one of Wills's group climbed onto the stage, grabbed the microphone, and yelled, "Please stop playing these crap songs. The prince wants dance music!" After a few minutes of awkward silence, the prince and his raucous army buddies departed. Baker understandably claimed to be "staggered" by the incident. "It was," he said, "the rudest thing I've ever experienced."
Nursing a hangover the following morning, William was unprepared for the news that Second Lieutenant Joanna Dyer, one of his closest friends at Sandhurst, had been killed along with three other British soldiers by a roadside bomb in Iraq. William was already in the midst of a total reassessment of his priorities. Now the shocking death of a comrade-in-arms convinced him that some major changes were in order.
. . .
https://www.herald.ie/entertainment/around-town/artist-pal-gemma-is-on-kates-special-guest-list-27978663.html
Artist pal Gemma is on Kate's special guest list
Melanie Finn, 27 April 2011
An Irish long-term friend of Kate Middleton's family is invited to attend the royal wedding this Friday.
Kerry-born artist Gemma Billington is travelling to London with her husband Tim to watch the nuptials of Will and Kate.
"Gemma is great friends with Carole Middleton and naturally very excited about it," Gemma's agent Noelle Campbell-Sharpe said.
"She'll also be wearing an Irish designer on the day, she needs several outfits for the morning and evening events. The hot ticket is Prince Charles' dinner as there's only several hundred guests at that and she'll be going.
"She got in touch with a lovely Irish dress designer named Alison Conneely and she's been over in England creating the perfect look for her."
The Origin gallery owner, who has met the future queen several times, went on to explain how Gemma is one of countless 'commoners' that Kate extended an invite to. "You have to admire the fact that she has invited ordinary people to her wedding as well, she's a lovely girl in that way."
Once the couple tie the knot in Westminster Abbey, they'll enjoy a reception at Buckingham Palace hosted by the queen, followed by a dinner for 300 guests hosted by William's father, Prince Charles.
Ms Billington, who divides her time between Ireland and the UK and also heads the Cill Rialaig Project in Kerry, lives near the Middletons in Berkshire and her children attended the same school as Kate and her siblings.
She even bought a share in a racehorse named Sohraab alongside the Middletons as part of a six-person syndicate.
Kate stunned everyone in April 2007 by jetting over to Ireland as the guest of honour at Gemma's exhibition at the Urban Retreat gallery on Hanover Quay.
https://www.ibtimes.com/kate-middleton-flew-country-mom-after-prince-william-split-2713309
Kate Middleton Flew To This Country With Mom After Prince William Split
By Catherine Armecin,
Kate Middleton spent some time in Ireland after her short split from Prince William.
According to Kara Godfrey, a journalist for Express, Middleton headed to Dublin with her mom, Carole, after she and Prince William decided to part ways. It's also believed that the mother and daughter travelled with a group of friends.
During the Duchess of Sussex's visit to the country, she met with Irish artist Gemma Billington, a family friend. Billington scored an invite to Prince William and Middleton's royal wedding in 2011.
Middleton also visited her first exhibition at the Urban Retreat Gallery and National Gallery of Ireland. This isn't surprising at all as the royal mom of three is known for her passion of art after taking Art History at the University of St. Andrew where she met Prince William.
During the said outing, Middleton reportedly "politely declined" to say a few words to reporters. Middleton's trip to Dublin was made just a few weeks after her split from Prince William and before the media was made aware.
During their engagement interview, Middleton addressed her split from Prince William and confessed that it was not easy for her.
"I think I at the time wasn't very happy about it, but actually it made me a stronger person," Middleton said. "You find out things about yourself that maybe you hadn't realised. Or I think you can get quite consumed by a relationship when you are younger."
The Duke and Duchess of Cambridge broke up in March 2007. Their split was reported on April 14. The couple reconciled in June on the same year and were pictured together in October.
Among the fab four, Prince William is the only one who has not visited Dublin yet. In July, Prince Harry and Markle made their trip to Ireland as their first overseas trip as a married couple.
According to reports, the Duke of Cambridge has not visited the country because it's not technically part of his duties as the future king of England. The Republic of Ireland is not part of the Commonwealth since it was automatically excluded when it broke away from Northern Ireland in 1949.