BRUCE HAMILTON CLARK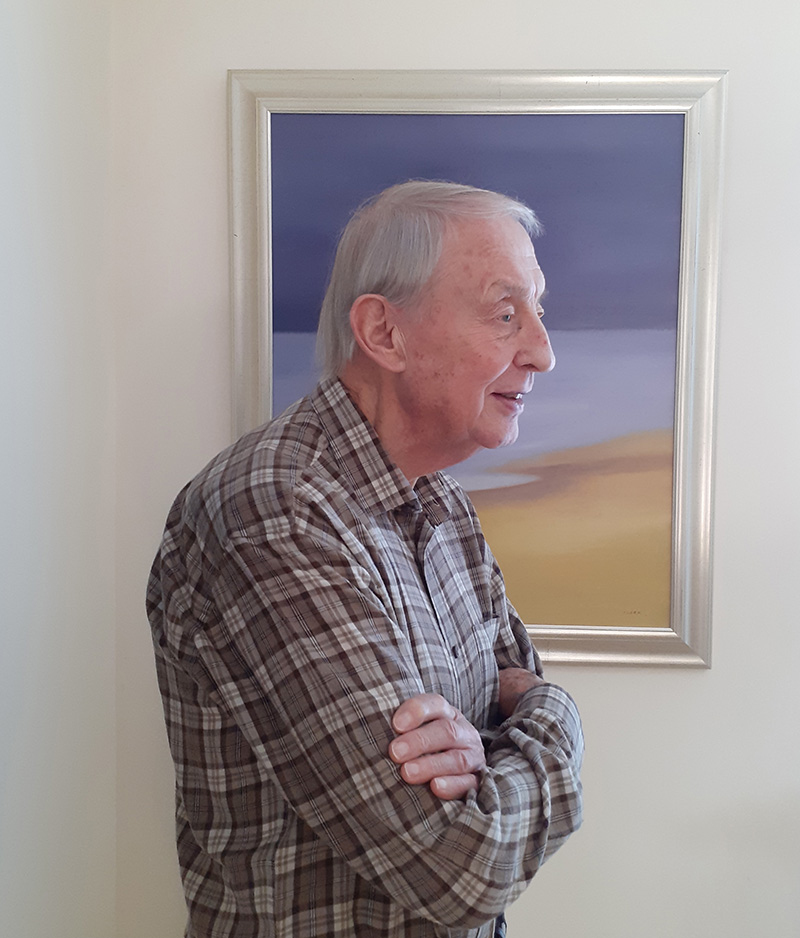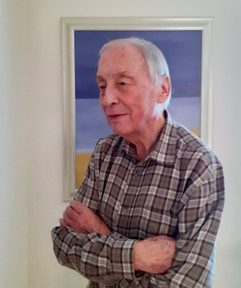 Bruce Clark M.A., D.A.E., CertEd.
Bruce Hamilton Clark was born in London in 1937. He studied painting and sculpture at Bath Academy of Art and gained his initial qualification there in 1960, having been taught by artists who achieved international reputations, including Howard Hodgkin. He also holds a Diploma in Art Education and was later awarded a Master of Arts degree by the University of Kent. Having held several teaching and lecturing posts from 1960 onwards, he decided in 1996 to paint full-time.
Throughout six decades Bruce Clark's work has been widely shown in the UK, France and North America. There have been fifteen solo exhibitions and some venues have been public buildings such as Worcester City Art Gallery and the Royal Museum, Canterbury. In 2006 a large retrospective exhibition was held at the Horsebridge Centre in Whitstable. He has also been accepted several times for the Royal Academy Summer Exhibition. Entries have appeared in 'Who's Who in Art', the 'Dictionary of International Biography' and 'Artists in Britain since 1945'. His autobiography entitled 'Tea was a Yellow Fish' was published in 2013.
Throughout his long painting career Bruce Clark has constantly experimented within a wide range of styles and techniques, both abstract and figurative. Themes have been inspired by landscape, literature, mythology, genealogy, architecture, and also the simple geometry to be found within a variety of artefacts. Hard-edge techniques have been employed where appropriate alongside more painterly methods on other occasions, with a general move towards simplification and clarification. Extensive travels have been influential, especially in France, Scandinavia, USA and Japan. The chief aim has always been to present an image which is precise and uncluttered; an image with an immediate impact, even on a small scale, but one conducive to further contemplation.
Bruce Clark has also had poetry published in various magazines and anthologies and won an Itoen award for a haiku in English. (Tokyo 1994 ).
SOLO EXHIBITIONS
1961 - Chiltern Gallery, London, W1
1962 - Chiltern Gallery, London, W1
1967 - Compendium Galleries, Birmingham
1968 - Worcester City Art Gallery
1985 - Graphics Gallery, University of Kent
1990 - One Off Gallery, Dover
1991 - Channel Gallery, Folkestone
1994 - Tabor Gallery, Canterbury
2000 - Cathedral Gallery, Canterbury
2002 - Metropole Galleries, Folkestone
2006 - Horsebridge Arts Centre, Whitstable
2010 - Hay Hill Gallery, Cork Street, Mayfair, London, W1

GROUP EXHIBITIONS including
1960 - Walkers Gallery, London, W1
1960 - Woodstock Gallery, London, W1
1961 - Kootenay Gallery, Canada
1961 - Assembly House, Norwich
1962 - Art and Crafts Centre, Port Alberni, Canada
1962 - Festival de Provence, France
1963 - Minotaur Gallery, Toronto, Canada

1963 - Calgary Arts Council, Canada
1970 - Piccadilly Gallery, London, W1
1976 - Royal Museum, Canterbury
1977 - Design Works, Canterbury
1980 - Nevill Gallery, Canterbury
1982 - Church of St. James, Elmsted, Kent
1990 - Philip Maslem Galleries, Canterbury
1991 - Metropole Arts Centre, Folkestone
1993 - Royal Academy Summer Exhibition
1994 - Kent County Art Fair, Bromley Civic Centre
1994 - Celebration 94, Inauguration of the Channel Tunnel
1995 - West End Business Centre, London, W1 (c/o Raw Gallery)
1996 - Royal Academy Summer Exhibition
1997 - Rowley Gallery, London, W1
1999 - Fairfax Gallery, Tunbridge Wells
2000 - Royal Academy Summer Exhibition
2000 - Cambridge Contemporary Arts
2003 - Rye Art Gallery, Sussex
2006 - DacArt Gallery, Nice, France
2007 - Stark Gallery, Canterbury
2009 - Cambridge Galleries
Artist's Statement 'LESS IS MORE'
The selection of paintings included in this exhibition concentrates on hard-edge geometrical work produced over a number of years. Some are based on a variety of historical artefacts and architectural details, but the most recent examples are simple arrangements of squares and rectangles separated by heavy black lines in the manner of Mondrian. Not however, as in his case, restricted to primary colours. The intention is to achieve a restful balance between basic shapes and subtle colour combinations. This often requires many changes before the result is considered satisfactory.
Previous Artist's Statement
Some of the most recent paintings relate to the flat landscape of Cambridgeshire where the artist currently lives. A few have been inspired by personal journeys along the West Coast of America, by accounts of the Lewis and Clark expedition of 1804 - 1806, and by locations associated with the early pioneers who traveled along the Oregon Trail.
Others relate to wanderings in Nevada, particularly among the smooth stones surrounding Lake Tahoe. There is also recent work based on more familiar but slightly secluded corners of the U.K. and some which is purely imaginary. The common factor has been an attempt to create a calm, atmospheric environment which might have a soothing effect on the spectator and provide an escape from the worries and complications of life in the twenty-first century.