PENNY CROFTS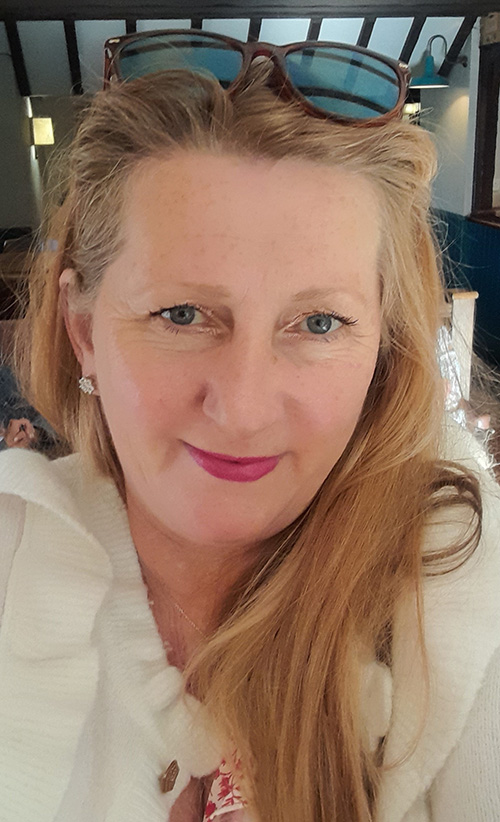 Exhibition 'Heatwave'
Penny Crofts studied Fine Art at Central Saint Martins' College of Art and Design, London, England, graduating with a BA (Hons) Fine Art in 2002. Her first solo exhibition was in 2006, and since then she has had further exhibitions around the UK.
Penny's work is continually evolving and she continues to push the boundaries with her unique brand of art, using thermography as a starting point to reflect on the world in which we live.
Climate change is becoming particularly relevant to her paintings, the new challenges it brings with the UK perpetuating to be a tropical climate, a distinct change from the moderate climate we have been used to. Heatwaves are becoming more prevalent in this country with the hottest day ever recorded in 2022.
Some of these paintings also contain imagery of Olympic champion athletes which have been translated on to canvas using acrylic paint. They reflect the power, talent and determination through the vibrancy of colour. However, the initial source of the imagery, using a thermal camera that records heat instead of light, is a true reflection of warmth which is effecting our world today and in the future.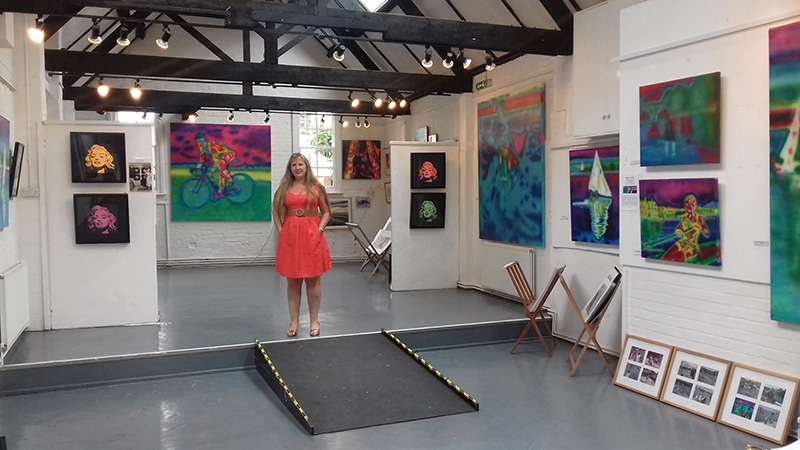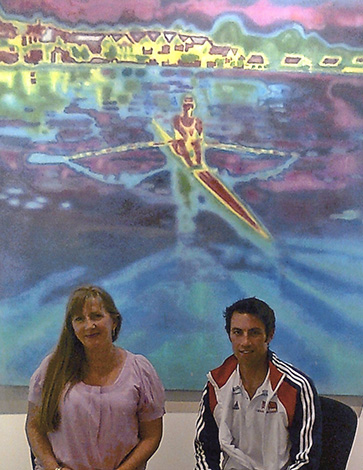 Penny with Mark Hunter and the portrait
List of Exhibitions
2022 Pop up exhibition, En Plein Air, Windsor Castle, Windsor
2018 Group exhibition, Steward's Enclosure, Henley Royal Regatta, Henley on Thames
Pop up exhibition, En Plein Air, Windsor Castle, Windsor
Contemporary Art Fairs Windsor, Royal Windsor Racecourse, Windsor
2017 Pop up exhibition, En Plein Air, Windsor Castle, Windsor
Spice of Life Solo Exhibition, Old Fire Station Gallery, Henley on Thames
2016 Pop up exhibition, En Plein Air, Windsor Castle, WIndsor
Group Show, Hay Hill Gallery, 35 Baker Street, London W1
2015 Hay Hill Gallery, Henley Festival, Henley on Thames
Gallery Artist, Hay Hill Gallery, 35 Baker Street, London W1
2014 Gallery Artist, Hay Hill Gallery, 35 Baker Street, London W1
Gallery Artist, T5 Art Gallery, First Class Departure Hall, Terminal 5, Heathrow Airport
2013 Heat On The Water, Solo Exhibition, WPNSA, Weymouth
Gallery Artist, T5 Art Gallery, First Class Departure Hall, Terminal 5, Heathrow Airport
2012 The Heat Is On, Solo Exhibition, Terminal 5 Expo Fine Art Gallery, Heathrow Airport
Henley Royal Regatta, High Performance Art, Leander Boat Club, Henley on Thames
2011 Henley Royal Regatta, High Performance Art, Leander Boat Club, Henley on Thames
Gallery Artist, High Performance Art, Terminal 5 Expo Fine Art Gallery, Heathrow Airport
2006 Bodyscapes, Skyscapes and Portraits, Solo Exhibition, Waterloo Gallery, Baylis Road, London
2005 Medical Edge, Euroart Studios, Tottenham Court Road, London
2004 Body and Soul Exhibition, Obsidian Art Gallery, Stoke Mandeville
The Affordable Art Fair, Rebecca Wordsworth Contemporary Art, Battersea Park, London
The Art of Love, Arndean Gallery, Cork Street, London
Heaven & Earth Exhibition, Obsidian Art Gallery, Stoke Mandeville
2003 Network AD, Candid Arts Trust, Torrens Street, London
Christmas Show, Blue Wing Gallery, Sandycombe Road, Richmond
Body Aspects, Blue Wing Gallery, Sandycombe Road, Richmond
F-EST Network AD, Candid Arts Trust, Torrens Street, London
Figure This, Stroud Valley Visual Arts Festival, The Subscription Rooms, Stroud
International Open Image, Deluxe Gallery, Hoxton Square, London
2002 Boobs The Art Show, Westbourne Studios, Acklam Road, London
Unmarked, Rossi Gallery, Brick Lane, London
2002 BA(Hons) Fine Art, Central Saint Martins College of Art & Design, Charing Cross Road, London
1997 Diploma in Foundation Studies in Art & Design, Central Saint Martins College of Art & Design, Charing Cross Road, London