TIMUR D'VATZ
Press
artist return
http://www.thenational.ae/arts-culture/art/who-is-timur-dvatz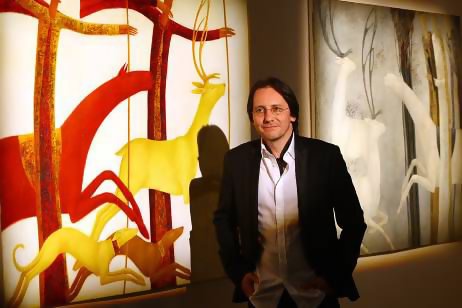 The artist Timur D'Vatz. Satish Kumar / The National
Who is Timur D'Vatz?

Anna Seaman,
Feb 5, 2013
Timur D'Vatz was born in Moscow but he completed his studies at the Republican College of Art in Tashkent, Uzbekistan. He subsequently studied in the postgraduate programme at London's Royal Academy and has been awarded a number of accolades including the BP Portrait Award at the National Portrait Gallery in London in 2002. His work has been described as fused with medieval symbols and legends and its modernist form has a vibrancy of colour.
"My work is based in history but I am conscious of bringing it into contemporary reality," he says. "It is modern work with reference to the ancient elements of history. In this way I am creating my own mythology based on my own imagination and what I read in books and from places I travel."
Saying that he was proud to be exhibiting for the first time in the region, D'Vatz continues: "Dubai is a huge dream, a modern fantasy. There are references to different cultures everywhere and I think it is that mixed crowd that brings about a utopian situation. I hope I can bring something new to what is already here."
http://www.artinthecity.com/en/articles/post/2013/02/24/artinthecity-speak-to-artist-timur-dvatz/522/?cct=119&ccid=522
ArtintheCity Speak to Artist Timur DíVatz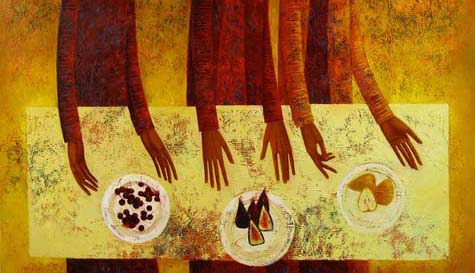 Widely regarded as one of Central Asiaís most successful figurative painters, Russian born Timur DíVatz is currently celebrating his solo debut in the Middle East, with the exhibition entitled 'Myths and Legends' at Alif Art Gallery. Timurís exhibition continues until the end of March 2013, with new works being introduced during the week of Art Dubai, and ArtintheCity's contributing writer Pamella de Leon caught up with him for a quick chat.
Congratulations on your debut solo exhibition in the Middle East. How do you feel?
I feel really delighted about the exhibition. For me, every solo exhibition is a result/achievement of a certain research and at the same time the turning point, which makes you think of a new direction.
Your inspirations are an interesting mix of ancient history, early Byzantine art, medieval tapestries and mythology. What is it about them that attracts you?
All of these things are an artistic representation of historical reality. With Byzantine art and tapestries, I love the colours and highly stylized representation of the images.
There is a surreal feel of Central Asian sufi philosophy and vibrant colors of orientalist paintings in your works, as well as ancient myths and legends as core elements in your painting. What motivated you to work with these components?
Sufi philosophy and interest in mythology helps me to develop my inner self.
In Myths and Legends, why did you focus on the subject of the hunt as a metaphor that represents the quest, the journey and search for inner knowledge and self discovery?
There is a dynamic movement in the chase. For me, this subject finds its fullest presentation through the symbolism of a quest.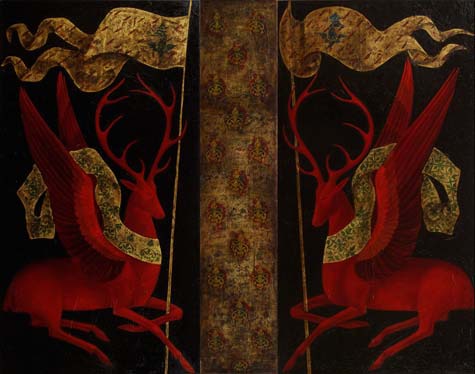 Elongated bodies demonstrating the
exhilaration of movement within a static image seems to be a pivotal subject in your works. Why do you enjoy this subject and style?
As an artist, you are drawn to particular themes or subjects or periods of art and history, which help to express your own ideas.
Can you explain to us your work process when creating a painting?
Every painting is a link in my on-going research. I see the paintings not as individual works but more as a collection of ideas surrounding a theme.
Do you see yourself focusing on a culture other than Central Asia in your future projects?
I am generally interested in history and therefore ancient cultures. Being raised in Central Asia, which historically was a part of the Silke Route, helped me to see the colourful mix of cultures on a journey between East and West.
About Timur D'Vatz
Born in Moscow, Russia in 1968, Timur first studied at the Republican College of Art in Tashkent, Uzbekistan and from there he was established as an artist. He subsequently studied under the post-graduate programme at the Royal Academy in London. Timur has been Awarded Jack Goldhill and Sir James Walker prizes. He is a Central Asian artist who fuses ancient legends and symbols with modernist form and vibrant colours. Figurative and emblematic, his paintings show elongated bodies demonstrating the exhilaration of movement within a static image.
He was awarded the Guinness Prize for ĎThe First Time Exhibitorí at the Royal Academy of Arts Summer Exhibition (1994). He received the BP Portrait Award at the National Portrait Gallery in London (2002). Timur has shown at the Opera Gallery Paris (2006), Venice (2007), Dubai (2008) and Singapore (2009). He has also shown at the Modigliani Centre in Florence (2002) and recently had a solo exhibition at Londonís Cadogan Contemporary (2012).
About Alif Art Gallery
Founded by Natalya Andakulova Alif Art Gallery is located at Damac Park Tower, part of Dubai International Financial Centre (DIFC). Alif Art Gallery is the first gallery in the Gulf to focus primarily on Central Asiaís contemporary visual arts and will show commercial and non-commercial exhibitions. The gallery represents emerging and established artists from Uzbekistan and Central Asia, and has a goal to promote the understanding of the rich Central Asian culture and reflect the regionís long-standing heritage through an educational programme of exhibitions, talks, workshops and tours.
West Dean College Exhibition