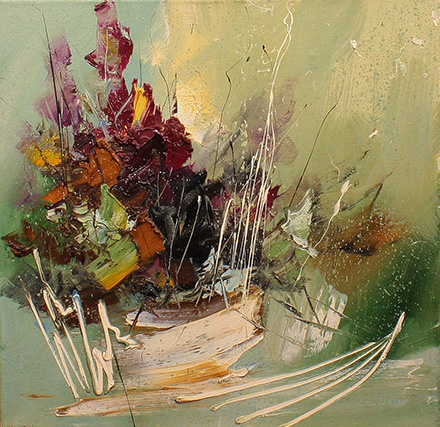 EKATERINA GRIGORYEVA (1940-2003)

Ekaterina Grigoryeva – a Honoured Artist of the Russia, a member of the Petrovsky Academy of Science and Arts and International Federation of Arts. She was born in 1940 in Moscow. In childhood, she studied at an art school, graduated from the Moscow Radio Engineering College. Painting has remained a hobby for a long time, and the artist's early works were not very remarkable. Later, while working as an engineer, she began to study painting with the artist Eduard Drobitsky, who at that time was the chairman of the Moscow Committee of Graphic Artists on Malaya Gruzinskaya Street, the epicentre of unofficial art of the USSR and, in essence, the first "island of creative freedom" in Moscow 1970s-1980s.

In many respects, precisely due to the feminine tenderness of her art (which in no way detracts from its innovativeness), unlike other representatives of abstraction during the USSR, her paintings were difficult to be criticized negatively, which allowed her to exhibit more often and quickly win the love of the audience, and even the crowd of imitators, who until now, after almost half a century, continue the attempts to copy her style, not realizing that it was always a matter of truthfulness of emotions and spontaneity, that the artist every time left on her canvases.

The purchase document contains the images of the available artworks with their prices. It is password protected. To obtain the password please contact us.