WALERA MARTYNCHIK
THE INDEPENDENT, March 2013
WALERA MARTYNCHYK is without any doubt, the heir of the highest tradition of Russian Avant-Garde and Abstract Art.
His paintings a seemingly chaotic assemblage of objects geometrical shapes, obey a rigorous order both in terms of composition and use of colour. Each work can be perceived as a symphony, a painted piece of music. Concern with compositional precision and rhythm is derived by early abstract artists such as Kupka, Delaunay, Klee, and Kandinsky. Chromatic choices are underpinned by a profound understanding of the theory of colours.
The description of these canvases as assemblage is not accidental. Martynchik's fascination for western conceptual and installation art - somewhat constrained by the repressive character of the formal Soviet art establishment - led him to experiment with the only medium available and recreate on the bi-dimensional surface of monumental canvas the same compositions that his western counterparts would create using objects trouve, reliefs and other sculptural elements.
Three-dimensionality is Martynchik's addition to flat, bi-dimensional abstract art.
Alessandro Lorenzetti
DEKORATIVNOE ISKUSSTVO, Art magazine, Moscow 2014
"MULTIDIMENSIONS" Walera Martynchik exhibition in the Museum of Decorative Arts, Moscow, 2014
"VALERA MARTYNCHIK: Principle of Complimentarity as a current Art Strategy"
Walera Martynchik is creating a new understanding of plastic structures, born of the phenomenology of the real life constructions coming from postmodern history with its traumas, shifts, existential relationships and tensions. Society with its subjectivism and occasional aggressive gesture as affects deeply the artist's search for new harmonies of his poetics, colouring its 'non-linear' equilibrium with seeming emotional instability which appears as uncertain psychedelic states. They change the even, levelled-out homogeneous field, underlying his system of values, into a vibrating, glimmering space capable of responding creatively to the intrusion of any forces, from absolutely real ruling system to mystical energies encoded into a matrix.
The visual philosophy of Walera Martynchik incorporates ample feedback thus allowing him to return into its layered structures, modifying scales and admission codes. The optics of this new culture avoids any narrative forms and becomes a symbol while preserving its sense of palpable reality and combing the spontaneity of 'play' with an intellectual approach. Thus it immerses into the ocean of the subconscious, into man's glorious cosmic past where his future was already present. Its vectors naturally glide along the coordinates axes obeying the principle of organic chance and unpredictable purposefulness. Martynchik's mesmerizing poetic constructions, recurring as they do in a mantra like fashion and rooted in the magic of his personal memory, create a purely intimate context in the fundamental depths of his ideas which curry a sense of human history and destroy the existing clichés and standards.
Vitaly Patsukov ( curator of Moscow Centre of Contemporary art)
FANTASTIC WORLDS exhibition, Albemarle Gallery catalogue , London, 2012
Emerging from the shadows of a totalitarian regime, Martynchik's paintings explode with a vibrancy of colour and imagination and hard to believe they originated in such grey, drab and utilitarian times. Theatrical caricatures and bizarre creatures seem to dance on impossible landscapes bursting with lyrical energy in these metaphorical works of fantasy.
" For me, my paintings were my inner immigration, into my zone, away from the outer life, in all its roughness, stagnancy, danger and banal simplification."
HAM & HIGH (Hampstead and Highgate, 7 February, London, 2008
As the exhibition "From Russia" entrances audiences at the Royal Academy of Arts, there's a sequel to one storey it tells in a new Hampstead gallery. Walera Martynchik, born in Belarus and now living near King Cross, has the second exhibition at the enterprising New End Gallery.
He sees his work as a direct continuation of several artists in the RA exhibition, an opinion shared by private collectors.
His art "vibrantly recalls the legacy of Chagall's floating worlds, Filonov's layering of paint surfaces, and Kandinsky's geometrical ordering of the most minute shapes" according to the Norton Dodge Collection catalogue.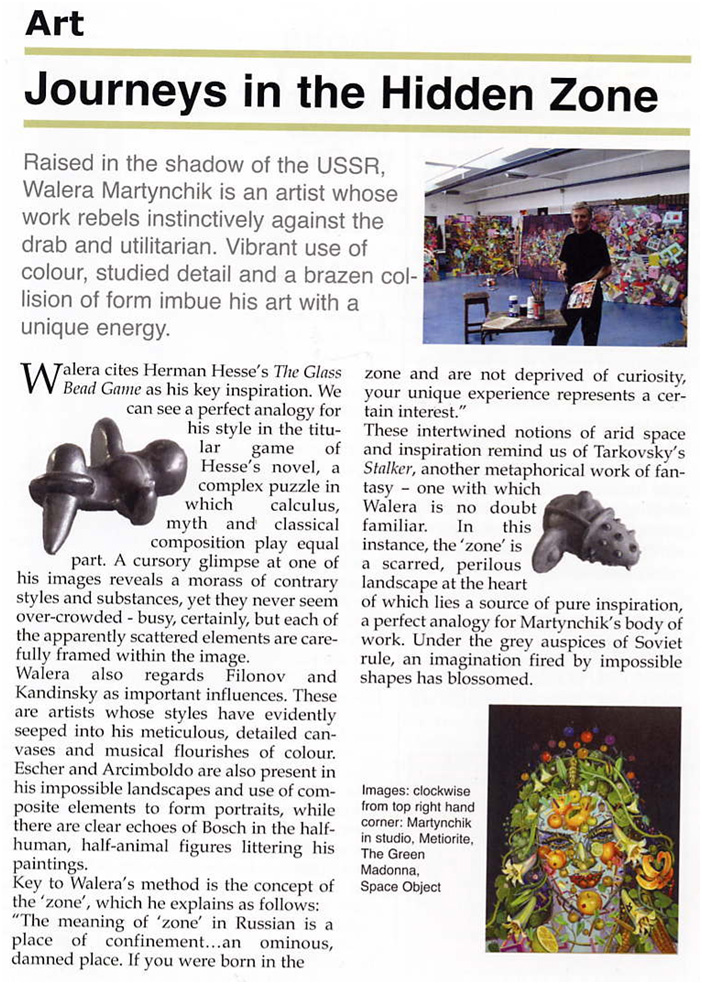 ART IN LONDON, Art Magazine. Autumn 2009
"Famous Contemporary Russian Artists" exhibition. November 2009.
Bedfordbury Gallery, Covent Garden, London
Walera Martynchyk is the only London-based artist in the exhibition. He was born in Belarus in 1948 and 20 years belonged to the Nonconformist movement in Soviet Art. He was a founder of Forma - the first group of underground artists in Belarus. Martynchik's creative development and commitment to painting was inspired not by official ideologies but by the work and writings of two innovative and influential Russian artists - Filonov and Kandinsky and by creative thinking of the composer Stravinsky.
"It must be difficult for a western viewer, used to liberalism, to decades of Pop Art and artistic eclecticism, to comprehend what it was like to grow up in a totalitarian regime, grey, dangerous and above all simplistic, with the stagnation produced by banal simplification" says Martynchik." I grew up in such a regime. My inspiration, my artistic way out of stultifying attitudes I and others like me encountered was the "The Glass bead Game" (1943) of Hermann Hesse, who too had been exploring a struggle of the spirit against the power of barbarism. His game involved using as many approaches as possible from the past - the cornucopia of cultures,. As my own protest against - and escape route from - the apathy bred by malign authority, I developed a style that uses the gamut of artistic styles from the past-glazing, geometry, perspective and portraiture - together with dizzying echoes of chaos end entropy. It dips into cultures riches of the visual arts , especially painting."
LE COTIDIEN DE PARIS 1992
"Le Mond Suspeople de Martynchik"
Originally from Belarus, Martynchik settled in London, after spending some time in Poland. His first exhibition in Paris is a revelation, as he has already found, at the same time his maturity (the height of his powers), his savoir-faire (know-how) and his own domain (Field, Province) which resembles no other. He paints endless canvases, whose every recess is covered with multiple colours, layered geometric shapes, with half–objects and small figures. The whole forms an inextricable tangle, as if our world were irremediably (incurably) destined for the dustbin or for a (traffic) jam from which it was no longer able to extricate (free) itself. The paintings can be viewed from all directions ,as there is no longer high or low, north or south, nor beginning, nor boundary. Within this heap, if one looks closely, one can discover geometric elements, boxes, tiny armed warriors, a pitiful Icarus, squares, tubes, taps, an unfinished stucco Madonna, masks, pyramids, rockets, architect's models, scaffolding: all the means necessary to furnish a carpenter's workshop. But there are also lizards piping, clock mechanisms.
Generally, when brick–a–brack (odds end ends) is (are) piled up like this, in the work of gesture painters, one has impression of a gigantic disorder, of suffering on a grand scale. This is not at all the case with Martynchik, who remains master of his overabundance and who paints each detail with absolute precision. Although the anthropomorphic part of his art is minimal – are we not details of a universe which structures itself without us? – one infers from this that man is only one ant in an enormous flood. This realisation brings no fear; there is joy and rhythm in the quivering of this painter, who knows – and is this not rare these days? – the meaning of work, and the requirements of a true oeuvre (opus, work), worthy of the name.
Alain BOSQUET
Academic, French Academy of Fine Arts
"DEKORATIVNOE ISKUSSTVO" Art Magazine N-9, 1989, Moskow

Walery Martynchik

"None of his works has ever been exhibited in Minsk. And, most probably, not one is ever going to be. Recently he has decided to move to immigrate. I do not know weather everybody will agree, but for me it is obvious that his works are on the apex of our versatile and multinational "underground art". The tragedy is that it remains under the ground after all"
Masha Shashkina
Curator of the State Tretiakov Art Gallery.Moskow.
From the interview with curator of Russian State Tretiakov Gallery Masha Shashkina. Dekorativnoie Iskusstvo, Moscow,1989.
M.Sashkina …Are you seriously believe that your art is futuristic?
W.Martynchik At least I work with the idea that good art should produce new visual ideas for future generations.
M. Sashkina Can you be more detailed?
W. Martynchik Not really. Everything is on the level of intuition. I believe in importance of intuition. Yes, I do believe that I am taking part in laying foundation for something new. But bricks of my foundation can be coloured, stripy, spotted, twisted or soft….
Selected publications:
DEKORATIVNOE ISKUSSTVO , "Multidimensions, Martynchik Art in the Museum", Moscow, 2014
THE INDEPENDENT, Walera Martynchik Albemarle Gallery exhibition, London, March 2013
HAM &HIGH (Hampstead and Highgate "Spirit that rose above ideology" London, February 2008
ART-SCENE "Walera Martynchik Art" London, March, 2008
THE LONDON MAGAZINE " Interview with Martynchik", London, 2008
L'ECO "Le brick-a-brack d'un monde surpeuple" Brussels, Belgium, 2008
DE SHELDEBO " Russishe kunst in Watertoren" Vlissingen, Holland, 1994
NORTON DODGE Collection of Soviet Nonconformist Art catalogue, New York, 1995
LE COTIDIEN DE PARIS , "Le Mond surpeuple de Martynchyk", Paris,France, 1992
RZEZBA POLSKA ( Polish sculpture)" Interview with W.Martynchyk", Warsaw, Poland, 1987
DEKORATIVNOE ISKUSSTVO "Interview with W.Martynchyk", Moscow, 1989
MOLODEZ ESTONII "In search of modernity" Tallin, Estonia, June 1988
JEWISH CHRONIC "The rise of Belorussian Stars" London, May 1990,
KRYNITSA magazine (Stream) "Sketches for W.Martynchyk's portrait", Minsk, Belarus, 1988