Svetlana Valueva was born in Moscow on October 24, 1966. From 1978 to 1985 she studied at the Moscow secondary art school named after V.I. Tomsky at the Institute named after Surikov. From 1987 to 1993 she studied at the Moscow State Institute of Art named after Surikov. In 1991 she had an internship in Germany, at the Stuttgard Academy of Arts, in the class of Professor Shafrat.
The artist's paintings are in private collections in Belgium, Germany, Japan, USA, England, France.
"You were born a whole century later," the teachers of painting at the Moscow State Art Institute said to Svetlana Valueva. Her works are imbued with the spirit of the refined romance of the "Silver" age, a style that is commonly called "Art Nouveau" in the West. The heroes of Svetlana Valueva's paintings are women, beautiful and unique, living in a fantasy world. The heroines of her paintings are women who are destined to live during the Silver Age. Some are real, others are a figment of the imagination, but they are all beautiful and unique.
"I have always loved to portray women. Sometimes some images were born in my imagination, sometimes I was attracted by real-life women. Each new face, so unique and inimitable, appeared at the beginning in my imagination, and then I depicted it on canvas."
Svetlana was born in Moscow and, as far as she can remember, has always drawn. At the age of eight, the girl got to an international exhibition in Cuba, where she received a gold medal. At the age of 9, she won the Grand Prix at the annual international children's drawing exhibition in Delhi. In 1977, a documentary film about outstanding Soviet artists was shown in all cinemas of the country, which told about Svetlana and her work. In the same year, her photo was placed on the front cover of the popular monthly magazine Sovetsky Soyuz.
The first personal exhibition of Valueva's works was held at the prestigious Moscow Gallery in 1993. Svetlana's paintings aroused great interest and were bought by a publisher from Japan. In 1995, Valueva, already a well-known artist, completed a series of works on ballet at the request of the Bolshoi Theatre. She lives and works in Moscow.
http://artrussia.ru/en/Svetlana_Valueva
SVETLANA VALUEVA, ARTIST
The modern world avoids beauty, it lost its codes, it doesn't know how to see it in everyday life or in exclusive settings.
This is the context where the oeuvre by Svetlana Valueva feels organic, the oeuvre of the artist who insistently pursues the program of aestheticising the world around her or, rather, of creating her own world where the "truth of life" is out jf place, where obvious, shameless beauty compiled by her artistic vision from the elements of different traditions, languages, culture, is everywhere. To pursue painting means to create a beautiful substance resorting to the special, inner feeling. This is the way nature creates diamonds, gold, sapphire. The images of this artist are charged with the same intention, with the daunting visualization of the implied, not of the evident, of the state, not of the action, and often of the premonition growing through the canvases in the luxury of plastic formula.
Olga Platonova, art critic
THE CREATIVE BIOGRAPHY
Svetlana Valueva was born in Moscow, 1966
From 1978 to 1985 she studied at the Moscow Art School by Tomsci at the Institute Surikov
From 1987 to 1993 - study at MSAI them Surikov
1991- Internships in Germany, Stuttgart Academy of Fine Arts
1993- 1995- personal exhibition CHA
1995 - exhibition in Japan, in Germany
1996 -written by a collection of works for the State Academic Bolshoi Theatre of Russia for permanent exhibition in the theatre
1997 -personal exhibition in Central House of Artists, participation in the Winter Art Manege in Moscow
1998 - exhibition in Japan, Kagoshima
1998 - exhibition in gallery " Albatross" in Moscow
1999-2002 -exhibition in gallery " Visit"
2000- exhibition in Zurich in the gallery "Medici House"
2000-2005 -deals with the Collectors Edition, LA, USA
2002-2004 -personal exhibition in the USA: Washington, New York, Los Angeles, participated at Art Expo in New York and Atlanta
2005-2008 - deals with gallery LCA - London and gallery of Igor Metelecin in Moscow
2010 - print personal book of pictures by Valueva
2008-2014- private artist projects
2015 -personal exhibition in gallery "Vizit".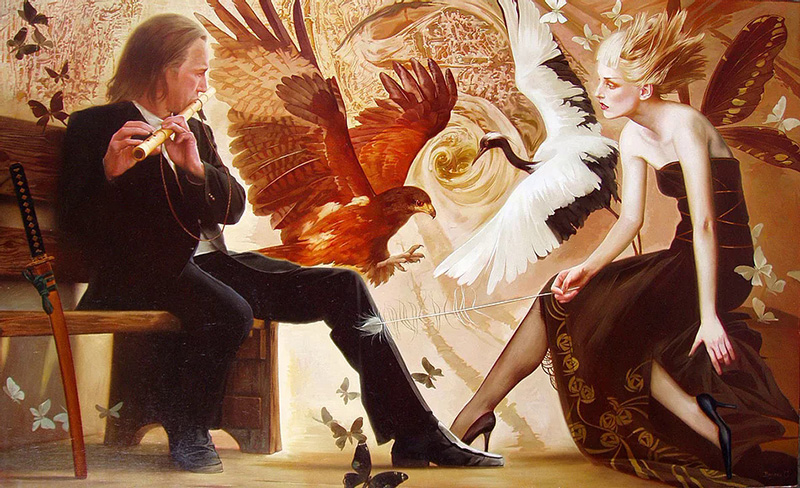 https://www.rogeryostgallery.com/fine-art/svetlana-valueva/svetlana-valueva-art.htm
Artist Svetlana Valueva
2010
| | |
| --- | --- |
| Born | 1966 |
| Birthplace | Pokrovsk, Russia |
| Home | St. Petersburg, Russia |
| Style | Romantic Impressionist |
This 44-year-old native of Moscow portrays women who live in a mystical world, surrounded by bizarre forms, signs and objects: a world real to them, however steeped in fantasy.
She began painting as a toddler. Her father, an artist, became her first and most important teacher, encouraging her to paint alongside him in his studio.
Thirteen years of state structured curriculum established Valueva's art and drawing skills in "social realism." In 1975, at age 9, she received the Gran Prix at the annual International Exhibition in Delhi, India, a juried exhibition of paintings by 150,000 children from 35 countries. She placed third in the same competition in 1977, won the gold (Gran Prix) again at age 13.
In 1977, a documentary featuring Valueva and other young achievers in art was shown in movie theatres across Russia. The same year she was highlighted on the front page Soviet Union, a popular monthly magazine. Few realize such fame in their lifetime, much less as a youngster.
In the Seventies, the only style permitted for Soviet artists remained social realism. The first time Valueva opened art books and was exposed to images by Klimt, Alfons Mucha, Sargent, and Alma-Tadema, she was stunned. She realized that her passion lay with those artists, and not with the "acceptable" realism.
Valueva continued to paint the obligatory art for school, but at home she allowed her true style to emerge. Her father had given her his studio, and she lived and worked there. Soon a steady stream of people interested in her emerging style--rather than "official" art --flocked to her studio. Before graduation she began to sell her "hidden" work to dealers in Belgium, France and Poland.
Valueva had her first solo show in a Moscow gallery in 1993. Influenced by photographs left by her great grandmother, a ballerina at the Marinsky (Kirov) Ballet Theatre, and by her great grandfather, an officer in the czar's army, the twelve paintings she created for the exhibit generated immediate interest. A Japanese publisher purchased all of them, and requested more.
In 1995 she was commissioned by The Bolshoi Theatre for a ballet collection. Invited to rehearsals by the art director of the company, Valueva created 15 painting that are on permanent display in the Bolshoi foyer.
Nostalgia for the elevated, magnificent "silver age" of Russia has drawn her to the past, a period known in the West as Art Nouveau, Jugendstil, or Liberty. This is where the characters of Valueva's paintings are destined to dwell.
"It's hard today to trace back the origins of my affinity for Art Nouveau," says the artist. "I feel I was destined to love this art from birth. This elaborate, refined, truly aristocratic style, regardless of subject matter, captures the fragility of all earthbound existence."
http://valuevaart.com/en/
Innate creative work
Life is a perpetual canvas. Svetlana drew as long as she could remember, since the earliest childhood. Communication with the relatives and outer world by means of painting was the most natural and amazing way of self-expression.

Svetlana's first artworks won general applause even during her study in Moscow State Art Institute named after V.I. Surikov of Russian Academy of Arts. A personal exhibition in the Central House of Artists is an incredible, fantastic success for the student of the early 90th. This landmark event opened a door to collaboration with renowned international publishers and galleries that were not confused by comparative artistic youth of the painter.

Svetlana's first artworks won general applause even during her study in Moscow State Art Institute named after V.I. Surikov of Russian Academy of Arts. A personal exhibition in the Central House of Artists is an incredible, fantastic success for the student of the early 90th. This landmark event opened a door to collaboration with renowned international publishers and galleries that were not confused by comparative artistic youth of the painter.

The collection of artworks for a permanent exposition in the Bolshoi Theatre was created during this period, also personal exhibitions in the Central House of Artists were organized, artist's canvas occupied a fitting place in the Russian and foreign galleries. Svetlana cooperated with the leading exhibition spaces of Japan & Switzerland and concluded the contract with "Crystal Art" — one of the largest companies in luxury segment in Russia.

Style Palette
The expression of colour, exquisite emphasis on the details, unrealistic plots in combination with the finished naturalism, commitment to rigorous academic school — all this elements create artist's unique style, which brought her world recognition and an opportunity to cooperate with the best art galleries and publishing houses, such as Collector's Edition and London Contemporary Art.

Anthem To Beauty
Her pictures represent and chain the charm, becoming the anthem to the sense of beauty. Artistic style of Svetlana Valuyeva is extraordinary rich and abounds with a big variety of composition methods, keeping constant devotion to a genre. Svetlana does not divide creativity and life, deriving inspiration from the moments and events, often unusual, surrealistic.