VALENTIN ZENKOVSKY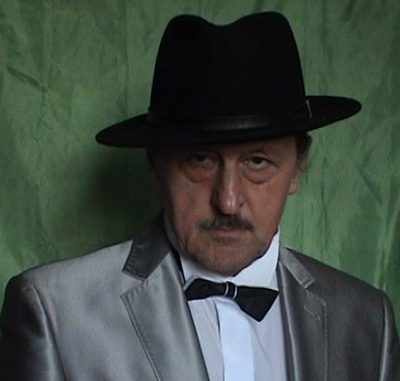 Biography
Valentin Zenkovsky was born in Moscow in 1952. Since childhood he loved to draw. Till he was 14, he drew some primal teenage stuff. But at 14, Valentin got involved with yoga and started drawing human bodies in various poses. It was a big deal. He started studying human anatomy and drew people, while they were engaged in yoga. He gave them his sketches. They were his first grateful and thrilled audience. It was so inspiring for him!
Out of high school, Valentin entered Moscow Steel and Alloy Institute to study the automation of iron and steel industry. Each summer during 5 years of education students had professional practice at the ironworks factories in metallurgical cities of Soviet Union. Valentin was impressed, really fascinated by sorcery of metallurgical alchemy and by steelworkers themselves. He's never seen anything like this in his life! It was the real strong impression for 17 – 20 year old young man. That is when he started using colours. The sense of colour was born in him. He got the feeling of strength of hue. After having worked his shift in a shop floor, Valentin used to take privacy somewhere and pour out his fresh impressions on canvas.
At the end of each practice, Valentin normally launched exhibitions of his paintings in the factory headquarters and in dorms, where students lived. Besides industrial themes, there were many portraits too. Normally, Valentin gave all pictures away. They may be still are hanging somewhere even today. Anyway, it was his first recognition as a painter.
In those years Valentin attended some art studios to improve his painting skills. He attended, for example, the art school under the direction of the famed artist of the USSR Alexander Ivanovich Laktionov not long before his death in 1972.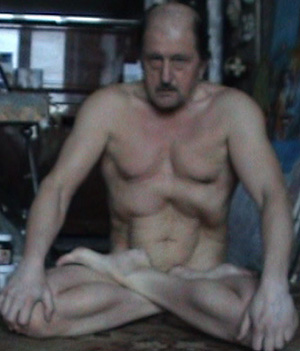 The next significant step was the institute theatre studio, led by actor Leonid Melamud. Valentin painted the scenery and the designed costumes and from time to time played roles as an actor. In particular, they put on the play based on the poem named '12' by Alexander Blok. That was when the first controversy with the Soviet censorship arose. The case was related to the last poem's words "Jesus Christ". For the Soviet secularism, it was inappropriate to say such words on theatrical stage. They were offered to replace the words 'Jesus Christ' by 'the revolutionary sailor' (in Russian those words are rhymed). Furthermore, Valentin was told to paint over the cupolas of the church (on the scenery canvas) the scene with Lenin on the armoured truck. Our theatre group fought back. So Valentin's civil position began to be formed.
After graduation, their theatre group existed for another 5 years. In 1977 because of the administrative pressure (no place to play performances) the group broke up.
Valentin entered the post-graduate studies. In 1982 he received his PhD and started teaching in the institute. Meanwhile he kept painting, but couldn't exhibit. To make an exhibition, one had to be the member of the Union of artists of the USSR. To become a member of the Union of artists of the USSR, one should have several exhibitions. This vicious circle was broken by the Gorbachov's Perestroyka. The political wind of changes opened the doors of freedom. At least it seemed to us so.
In 1986 Valentin joined the artistic association named 'Jakimanka' and his exhibition activities started. He exhibited, for example, at the Moscow Youth Palace, twice a year at Spring and Autumn at the Gorkom Graficov Na Maloj Gruzinskoj 28, at The Manege, at the Central House of Artists at Krymsky Val, at the Moscow House of Artist at Kuznetsky Most, etc. Besides, there were the open air places for painters to show and sell their paintings: the Bitza, the Izmailovsky Park, the Arbat. He regrets that it was not possible for him to get into the Sotheby's auction, held in Moscow in 1988.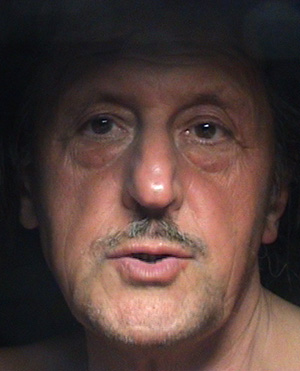 In the late 1980s the private galleries began to appear in Moscow. So, the gallery Best was showing and selling his paintings in Berlin for 3 years (16 shows and more than 200 paintings were sold). This gallery was located in the high-rise building near the White House (the Parliament building). In autumn 1993 during the armed assault of the White House, the gallery Best was evacuated and then it was liquidated. But Valentin was already known as a painter and his exhibition and selling activities continued. For example, with the gallery Spanish Quarter for 5 years he had a lot of successful exhibitions in Europe.
In 1990's Valentin started to search for new expressive means, new painting technique and new forms of exhibitions. He and his friends were trying to combine paintings on canvases with a theatrical performance. The script was written on grounds of paintings along with the music and the poetry. So, the art group was formed (named 'Step'). They worked really hard up to 2000. This period was very fruitful in creative context. Valentin learned how strongly (at least for him) is an impact of playing a musical instrument on a picturesque inspiration. Since then he started to play piano everyday to awake his creative forces as a painter.
Nowadays for almost 20 years Valentin works with the company 'Art of Future' on the international project 'Art Week in the World'. Annually, he used to participate in 3-4 exhibitions all over the world. Also he cooperates with Non-Profit Trust of Assistance to National Culture and Art Development. He is an establisher of 'Russian Gallery – XXI Century'. He is a member of the International Art Foundation.
In 35 years Valentin sold more than 2000 paintings and participated in more than 300 exhibitions all over the world.
Meanwhile, until 2012 he continued to work as an associate professor at the Computer Science Department of the Moscow Metallurgical Institute. He wrote and published 8 manuals on programming (Visual Basic 6, Visual Basic.NET) and computer graphics (Poser. Anime Studio Pro, Cinema 4D, Vue). He also took part in scientific researches having more than 20 published articles in scientific journals and 3 patents.
Valentin is married and has the son and daughter. Both his children graduated from Moscow State University.