https://consideringart.com/2019/11/19/patrick-altes-tolerance/
Patrick Altes - Tolerance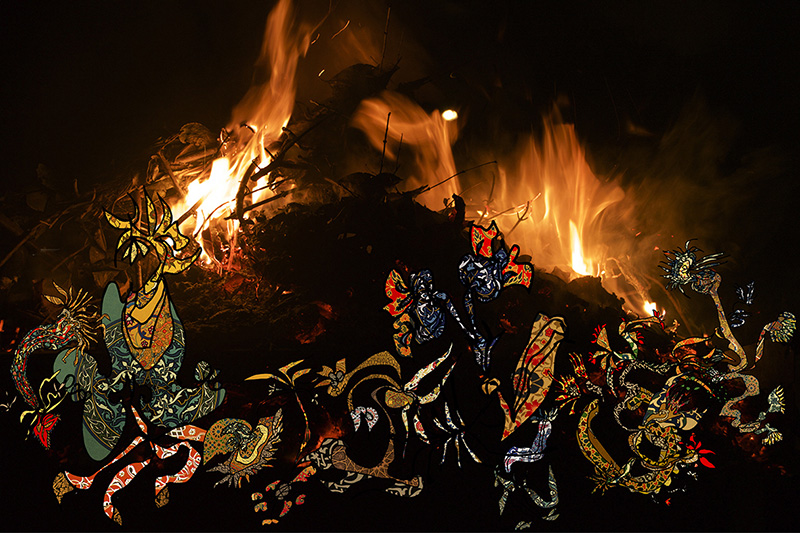 This new exhibition by Patrick Altes, a leading light in the emerging French-Algerian art movement, is something of a 'cri de coeur'. As the title spells out, each work, be it digital print, painting, sculpture or installation, engenders a plea for understanding in a world beset by seemingly insoluble problems and dissension.
We Live in Uncertain Times is the title of the top shot, almost an understatement in today's fraught world. In the background, the Middle East is on fire while the plant-like figures in the foreground in various different cultural motifs, dance around the campfire. They represent both victims and perpetrators, in particular former colonial oppressors.
Altes was born in the French colony of Algeria to parents of French/Spanish origins who left for the suburbs of Paris on independence when Altes was a young child. He has led a somewhat peripatetic life since. At 21, he lived in apartheid South Africa for two years, teaching French at the University of Fort Hare where many black African opponents of the regime were educated. "The idea of tolerance definitely stemmed from there," he tells me. "There was an incredible stupidity in having a distinction between people according to their race or colour which the French did before in Algeria."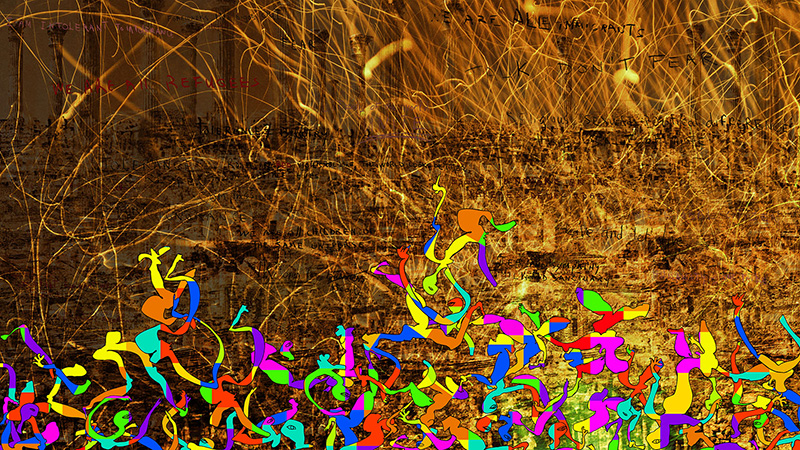 Empire and Tolerance, 2015
In the image above, you can just make out the Roman ruins of Tipasa in Algeria in the background at the top left, masked by vegetation. The contrasting multi-coloured cartoon figures tumble below them. The inference here is that civilisations come and go, often violently, and that if we are to survive we must broaden our horizons and view things from a global perspective rather than a narrow nationalistic one.
This is a key element in Altes's outlook. He spent time in South America and now lives in England with his English wife. Yet he feels an outsider where ever he goes. He finds it easier to tell me what his identity is not rather than what it is. Being settled for him is "a bit scary". He says he enjoys being on the fringe of societies and being able to function in a language that isn't his and a culture that isn't his. "I feel part of the human race without having to embrace all the trappings of being one nationality or culture."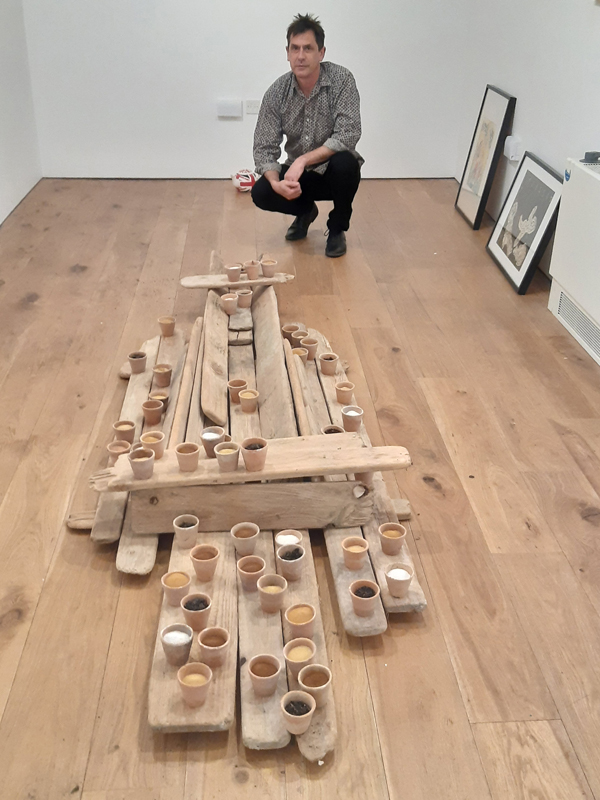 The Crossing, 2019, with Patrick Altes
Though he has not experienced the kind of hardships felt by those migrants who risk their lives by sailing to Europe from Africa and the Middle East, it's easy to see why his own migratory instincts makes him plead for the understanding of their plight. They should not be misconstrued as "invaders", he says. He constructed the makeshift raft, above, from driftwood gathered from the beaches on the south coast where he now lives. Driftwood represents a lack of direction, a lack of control.
The small pots contain different types of soil. "They symbolise the little things they bring with them in terms of culture, in terms of roots, in terms of civilisation that in a way will enrich the country they will visit."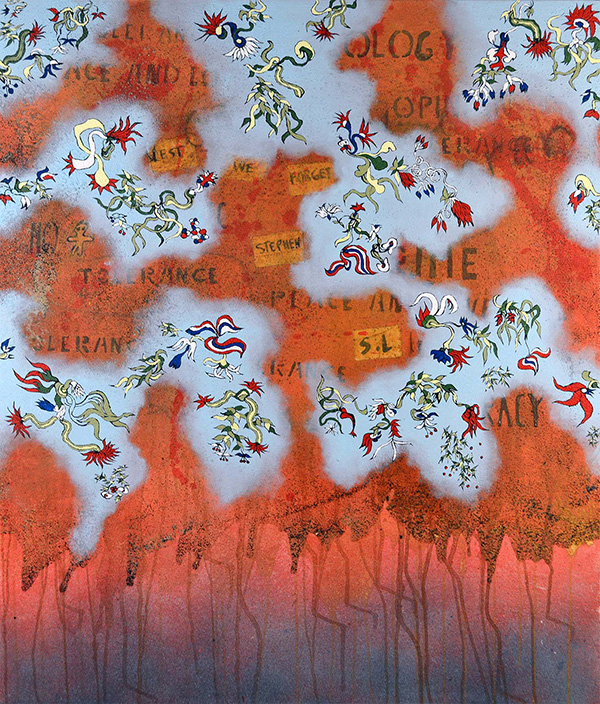 Hanging Gardens of England 2, 2019
Migrants are increasingly finding their way on to English shores. The painting above moves away from the universal to the specific, of Britain as an ex-colonial power. It's a spin-off from an earlier work, Hanging Gardens of Babylon, also in the exhibition. The blue sky filled with colourful symbols of the lands over which this country once ruled, contrast with the uglier colonial truth of the wall of orange on which slogans of tolerance are plastered. The painting drips with dereliction and instability against a background spray-painted in the colours of the Union flag.
Though Altes believes France is a more racist country than Britain, he has included the name Stephen in the centre of the picture, a reference to Stephen Lawrence who was the victim of a racist killing a short distance from the gallery.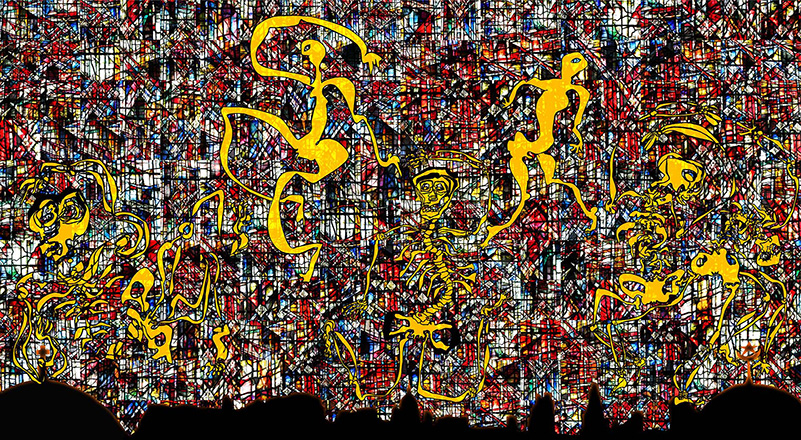 Ultimate Mediation, 2017
One of the more striking of Altes's digital prints is Ultimate Mediation in which his signature, playful cartoon figures, this time death-like, perform a 'danse macabre' above a cityscape representing civilisation and against an extraordinary detailed background resembling a stained-glass window. It took 400 layers on photoshop to achieve. "It's a way of expressing continuity. A lot of the problems that appear insurmountable are negligible in that at the end of the day, regardless of our hatred, love etcetera, we're all going to end up dead."
This is a large, sprawling exhibition in an international-level gallery that has previously, with Arts Council support, hosted prominent exhibitions including works by Matisse, Louise Bourgeois and Cornelia Parker. As curator Janet Rady, a Middle Eastern art specialist, points out, it's also well-suited to outreach programmes involving the artist and students in workshops and discussion groups.
At a time when political tension in the world is as bad as I can remember for quite some time, be it with our own "local difficulty" Brexit, or more global issues particularly in the Middle East, discourse on tolerance, compassion, injustice and historical truth to persuade people to think in different ways is most welcome. I wish Patrick Altes all the luck. He'll need it.
Tolerance is showing at The Gerald Moore Gallery, Eltham College, Mottingham Lane, London SE9 4RW until 25 January 2020.
All images are courtesy of the artist and gallery.

https://consideringart.com/2020/08/10/considering-art-podcast-patrick-altes-mixed-media-artist-of-algerian-heritage/?amp=1
Considering Art Podcast – Patrick Altes, mixed media artist of Algerian heritage
by Bob Chaundry, 2020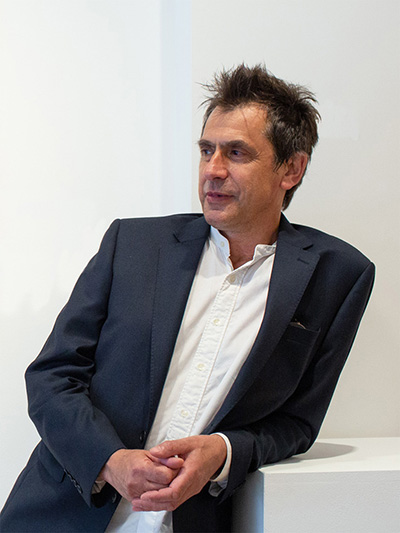 In our latest podcast episode, UK-based French mixed media artist talks about life as a "pied noir", the name given to those of European origin born in Algeria but who moved to France following independence. He talks about how this and living in South Africa, South America and Europe have had a profound influence on his life and art.
Patrick Altes talking with Bob Chaundy about his life and work.
Accompanying images for consideringart.com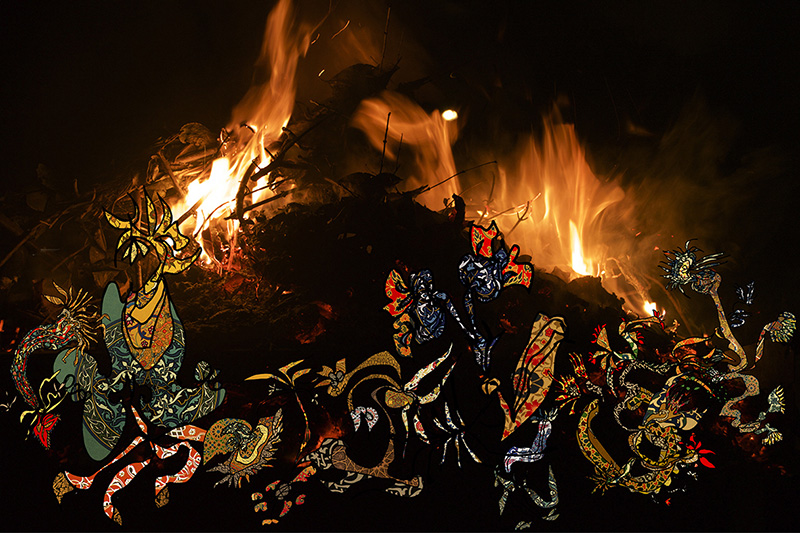 We Live in Uncertain Times, 2016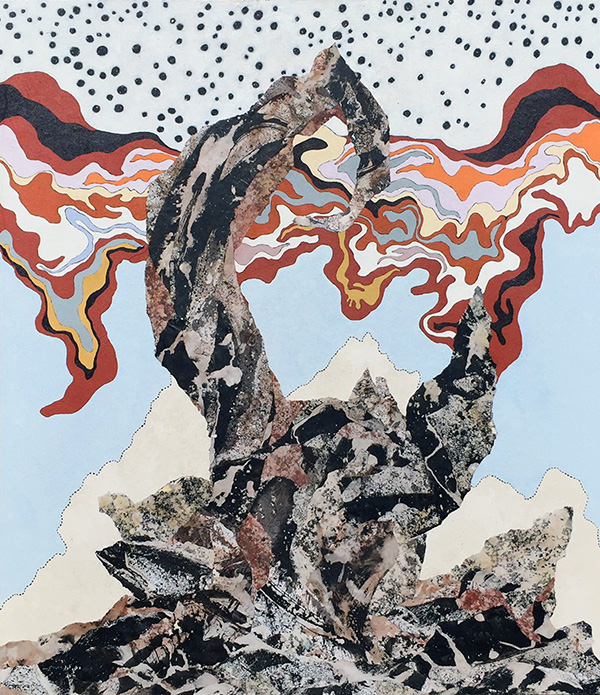 Symbol of Our Dreams, 2019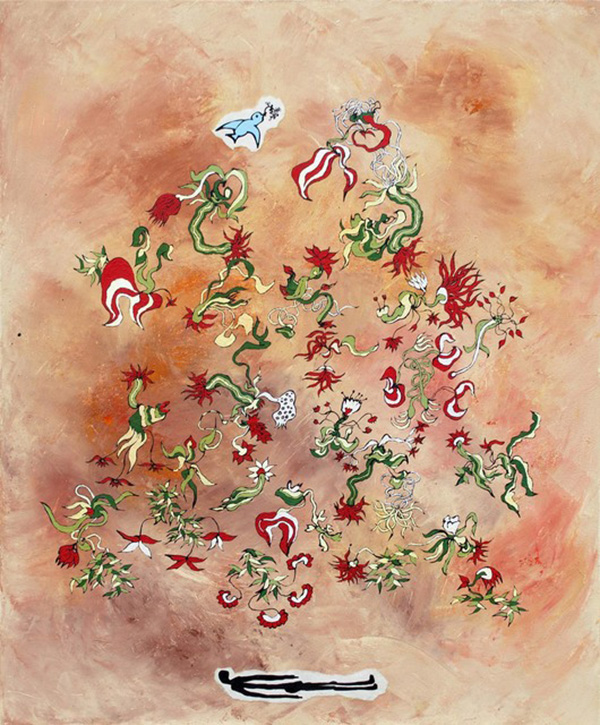 Re-writing History, 2020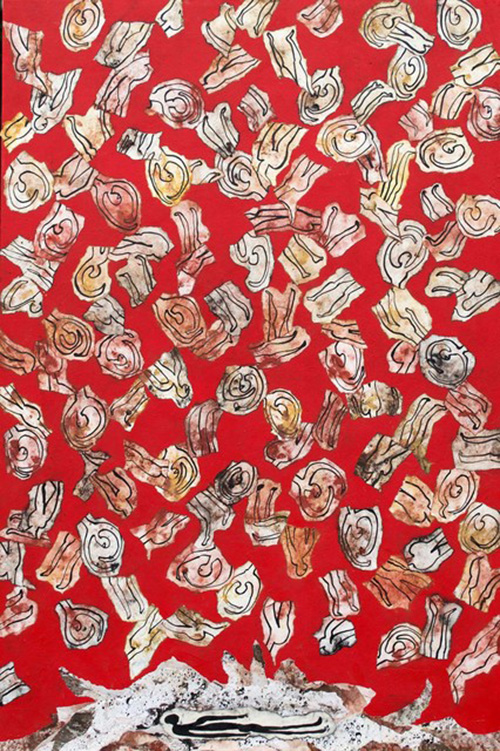 Ad Infinitum, 2020
You can view Patrick Altes's virtual exhibition, Legacy, here
All images are ©Patrick Altes.
Music: Ibiza by MBB | https://soundcloud.com/mbbofficial

Recent Articles:
https://artdaily.com/news/118767/Gerald-Moore-Gallery-presents-an-exhibition-of-works-by-Patrick-Altes#.Xv35ii3MxUM
https://nahlaink.com/in-conversation-with-patrick-altes-the-french-algerian-artist-advocating-tolerance-in-his-latest-uk-solo/
https://wsimag.com/art/59508-patrick-altes
https://consideringart.com/2019/11/19/patrick-altes-tolerance/
www.hastingsindependentpress.co.uk/literature/hip-review-identifying-as-migrants/
www.artsandcollections.com/patrick-altes-exhibition-tolerance-confronts-negative-cultural-stereotypes/
https://hastingsonlinetimes.co.uk/arts-culture/visual-arts/patrick-altes-urges-tolerance-at-a-wave-of-dreams
www.trebuchet-magazine.com/patrick-altes-tolerance/
https://www.europenowjournal.org/2018/02/28/layering-over-the-wounds-of-algeria-in-contemporary-pied-noir-art/
https://curatingthecontemporary.org/2016/10/28/africa-my-africa-connecting-boundaries/
http://www.blouinartinfo.com/photo-galleries/sneak-peek-what-to-see-at-art16-london?image=18
http://francophone.port.ac.uk/?p=1009
http://artradarjournal.com/2016/01/17/16-algerian-contemporary-artists-to-know-now/
http://wsimag.com/art/16302-patrick-altes-frayed-ideologies
http://www.candidmagazine.com/africa-africa-connecting-boundaries-gafra/
http://www.thedoublenegative.co.uk/2014/05/maps-of-a-wretched-past-patrick-altes/
https://curatingthecontemporary.org/2016/01/21/the-algerianism-art-project/
https://nourfestivalblog.wordpress.com/2015/11/06/algerianism-part-i-the-art-of-being-algerian/
http://www.oranais.com/actualites/patrick-altes-au-journal-de-loranais-fier-detre-le-premier-pied-noir-a-exposer-a-oran.htm
http://www.lesoirdalgerie.com/articles/2014/06/11/article.php?sid=164645&cid=16
http://www.port.ac.uk/research/africanoralhistory/artistinresidence/
http://francophone.port.ac.uk/?p=446
http://www.port.ac.uk/uopnews/2014/10/21/exhibition-asks-where-is-home/
http://triskelartscentre.ie/events/2566/patrick-altes-a-story-of-revolutions
JadMag, edited by Tadween Publishing (www.tadweenpublishing.com) is featuring "Garden of Eden" in The Afterlives of the Algerian Revolution.
Zapruder, an Italian social and political magazine is featuring the "A Story of Revolutions" series with "Pied Noir Cowboy" as a cover in its Movimenti Nei Mediterraneo edition of April 2014.
The Lancet Oncology, Caring for the careers. Volume 9, Issue 3, Page 212-213.