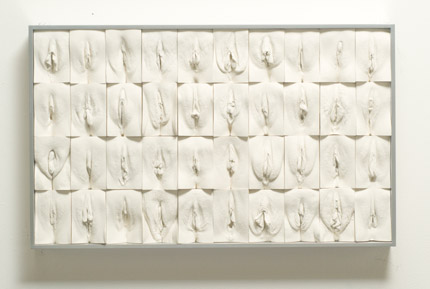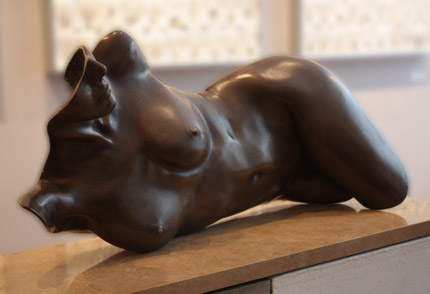 purchase (pdf, password protected)
The purchase document contains the images of the available artworks with their prices. It is password protected. To obtain the password please contact us.
JAMIE MCCARTNEY

Jamie McCartney is an English sculptor, trained at Hartford Art School, USA, where he graduated in 1991. An artist hard to define. "I blame my degree in Experimental Studio Art... I'm still experimenting". He admits to being a sculptor but shuns any closer definition. "I make things". This mock belies a strong character with a definite je ne sais quoi... A maverick, a self-confessed enfant terrible and what he makes is causing a stir.

McCartney began his career running his own forge, making abstract animal sculptures in steel. He subsequently moved into sculpture, prop making and special effects in the film industry. Jamie worked on films such as Blackhawk Down, Charlotte Gray, Around the World in 80 Days, The Hitchhikers Guide to the Galaxyand Casino Royale.

The influence of his work in the film industry are clearly seen in his sculpture practice. Materials and techniques adopted are used in his assemblage-style work, combining i.e. animal hides, taxidermy, human teeth with sculpted and cast body parts. His interest in the human body has led to some unusual work i.e. Actaeon, a man's torso cast in deer hide and The Impossibility of Passion, the beginnings of his move into what he calls Neo-Surrealism.

Focused on notions of beauty and society's obsession with the physical self, no subject is too controversial, nor any process or material off limits. McCartney pushes his subjects through to weird extremes- torsos like perfectly peeled orange skins curl up on their plinths, one legged seven-toed women reach their ideal weight in bronze. His five year project, The Great Wall of Vagina was accompanied by a book of women's testimonies, speaking of the empowerment of his work. This feeling of liberation is widely shared by those who have encountered his art.

Other works include After, a cast taken from his dead father, and the soon to be launched Great Wall of Vagina, comprising casts taken from the genitals of 400 different women. This work has attracted interest from around the world during its five years in the making.

His last series of works, Sexidermy, involved taxidermied animals reworked with sexual overtones. Armadildo and Pussy Cat have earned him as many detractors as enthusiasts. In contrast, is his whimsical Objet d'Aft series of which Shuttlecocks is a typical example. He is also frequently commissioned to create one-off designs for business and private clients.

McCartney's frequent appearances to discuss his art in the press and on TV, both at home and abroad, have also done much to boost his public and artistic profile.