MEL SMOTHERS
https://whitehotmagazine.com/articles/mel-smothers-on-happenstance-painting/4523
Mel Smothers on the Happenstance of Painting
By NOAH BECKER February, 2020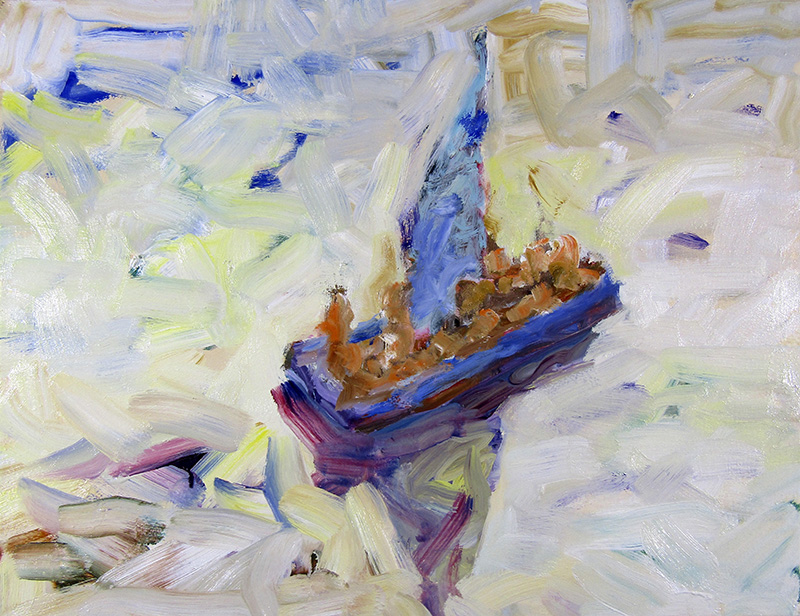 Mel Smothers, Refugee Raft
I spoke with Mel Smothers, he's a shy painter but I feel like his work is interesting. His solo show opened in New York City last week.
Noah Becker: How did you come up with the idea of doing paintings of refugees?
Mel Smothers: I was camping with my wife on the Dry Tortugas. A National Park, 75 miles across the ocean from Key West. It's a desert island with a civil war fort. It's not a big island, and restricted to 10 campsites and we stayed for only 3 days. There were the remains of a Cuban refugee raft there - I first saw it as sculpture, like a Rauschenberg. Staring at the accidental inventiveness of it, I was able to empathize with the desperation that would have constructed and then set it off to sea. It stuck in my mind for a few years and in 2017, I started getting visual ideas of how I could respond to the concept of the raft.
Noah: Do you have influences that worked their way into these paintings? Iím thinking Monet?
Mel: Thats funny, I once had a review that saw my work as a confluence of Monet and Thiebaud. As a painter I find art history has so many influences and I explore each new one that has something to show me. That said, my biggest influence is Wayne Thiebaud, he was my most influential teacher. I didn't have the finances nor the academic credentials to study art, only desire. I stole into Wayne's figure drawing class in California at UC Davis. I was caught and removed, but two weeks later, my desire to learn to paint got the best of my fear, and I went back - this time he took me in. I was uneducated, I only knew I wanted to paint. He saw that and introduced me to art history and the long tradition of painting, and my place in it.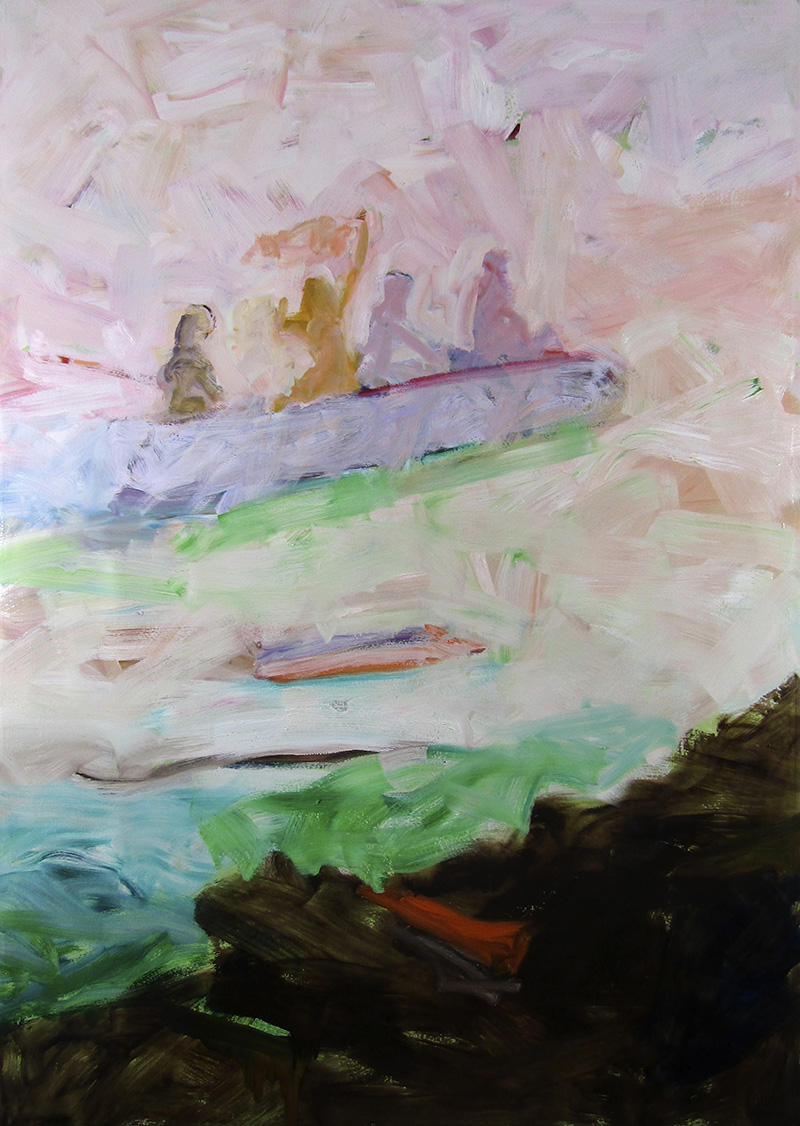 Mel Smothers, Refugee Raft #2
Noah: Do you think that painting is still something that people should be doing in 2020?
Mel: The tradition of painting is too deep in humans to be denied. Other forms of art making have found their place in the museums and that's ok. Painters know what is inside them, the need to make visual images, It's very hard to deny once you've discovered you're a painter. It doesn't matter if you're a Sunday painter, or the painter that gets success because of privilege or social status, or the unknown, uncountable thousands in NYC that have been successfully pushing painting into 2020.
Noah: How do you think about the use of colour when your paint?
Mel: I love colour, it makes me feel good. I've found the more years I paint, the more my sense of colour is refined. Colour is still a thrill.
Noah: Tell us something about your opening how it happened and when itís opening?
Mel: If you hang around NYC long enough, even if you're an introverted painter, you meet people that can help to get your paintings seen.
I met Lee and Damian when they opened their gallery, Dacia Gallery #53 Stanton St. They have a different style of painting that they wanted for their gallery, but they seemed to have found something they liked in what I'm doing. So, if there is a gap in their schedule I get a chance to show. There is a gap in the exhibition schedule Feburary 15- March 14, 2020. This is my second solo show at Dacia.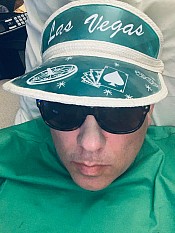 NOAH BECKER
Noah Becker shows his paintings internationally. A visual artist, saxophonist and the publisher and founding editor of Whitehot Magazine, Becker has also written freelance articles for many other major magazines. Becker's writing has appeared in The Guardian, VICE, Garage, Art in America, Interview Magazine, Canadian Art and the Huffington Post. He has also written texts for major artist monographs published by Rizzoli and Hatje Cantz. Becker directed the New York art documentary New York is Now (2010) viewable on Youtube.