FRANCISCO FERNANDES (XICOFRAN)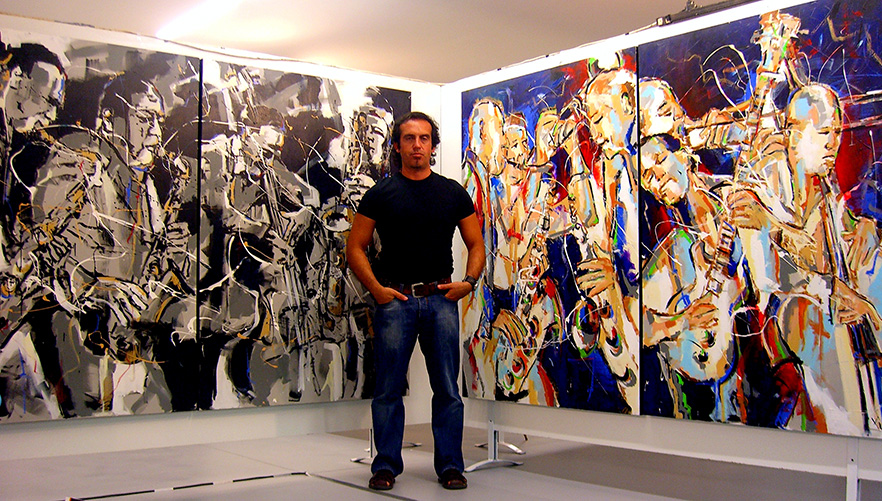 Francisco Fernandes signs his paintings XicoFran. He is considered to be one of the greatest talents of his generation in the art world. Known as born in Luanda, Angola, in 1969. In 1994, he graduated from "Escola Superior de Artes Decorativas (ESAD)" with a degree in Interior Design. During this time, he took part in several exhibitions and painting competitions.
In 2002 XicoFran was lucky to cross paths with Antonio Inverno. This humble and wise master passed on important techniques and knowledge, which XicoFran still uses in his work today, such as the balance of his canvas and the magnificent points of light. When XicoFran paints, he is able to show all his passion for the simple things of everyday life, creating masterpieces that rise from a pure place in consciousness, arousing an intense curiosity that leads to an inevitable smile. One of the most important and well-known characteristics of his work is the way this artist portraits the movement of a musician in his canvas, the dragging of the movements and the vibration of the instruments. This is a theme that the artist masters and his technique and brush strokes are renowned throughout the world.
XicoFran has a promising future and already an outstanding past. His work is part of private collections owned by art lovers in Portugal and abroad. His talent has been recognised with several awards, both national and international. Through hard work and determination, he has secured a preeminent place in the art world.
The Artist's Introduction
My purpose with the exhibition "Momentum", is to exalt all the energy and vibration of two artistic strands, and very specifically the fusion between Jazz and Ballet. I did so, almost by instinct, capitalizing the fact, on one hand, of being a Jazz painter, having immortalized over the years almost every single one of the great icons of world jazz, as well as pictorially representing almost all of the main silhouettes that so well define this musical theme, and on the other hand, by not being able to fail to expose and highlight an ancient passion that accompanies me almost as a call: that of representing the grace and sensuality of the Ballet figures. So, it makes perfect sense to embark in this exhibition emphasizing the union between these two artistic variants, immortalizing them through my drawings. I definitely take my risks in doing so because, as we know, the two artistic strands do not historically have much in common. Both came across different paths and their representatives have a very own and peculiar DNA. Yet, in my perspective, there is something that inevitably unites them: the fact that dance and music are universal, therefore transcending cultures and peoples in all regions of the world.
Xicofran
http://www.jorgetaylor.com.pt/2018/06/13/free-jazz-by-xicofran/
A BOA VIDA PERSEGUE-ME (GOOD LIFE CHASES YOU)
JORGE MANUEL TAYLOR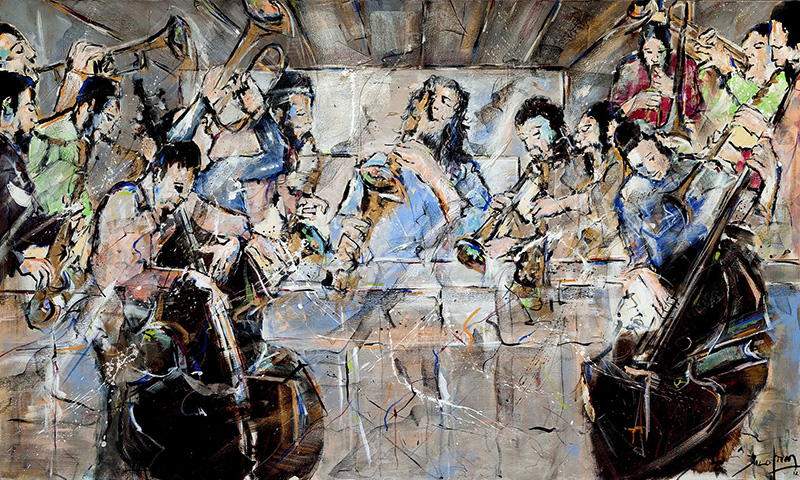 FREE JAZZ BY XICOFRAN
Posted in Encontr(A)rte, LIFE WITH ART, Jun, 13, 2018
"Free Jazz" has a face with a name and a visual artist who is "Francisco Fernandes".
I had heard of Francisco Fernandes and seen his work dispersed in social networks, but my real meeting with the work of the Artist was held, in the exhibition "Artes Mirabilis – Collective of Angolan Plastic Artists", at UCCLA - Union of Portuguese-speaking Capital Cities.
This first meeting with the works of Francisco Fernandes, led me to ascertain the idea that, one of the things that most connects me to art is, in fact, the ability that art has to harvest and pass on various perceptions of the message.
In this particular case, the visual arts and the art of sounds to be manifested through painting! The contact between the art of sounds and the visual arts, in various forms, creates magic, this magic that awakens the intuition of those who observe, of those who listen. Deep down two worlds that add up!
This is what the works of Francisco Fernandes transmit.
They radiate a pulsating rhythm, performed with movements full of energy, intensity and precision.
They make the "canvas" happen and make any musical instrument... any voice, of jazz, of a canvas. His paintings draw from musical instruments a fascinating rhythm, such a dance swing, designing images that play, arousing emotions and other creative sensitizations.
After all, Jazz is something so mythical that it can embody anything, any painting, as long as music can be removed. As long as there's swing and some improvisation to the mix.
Francisco Fernandes does not limit his work only to the canvases, it is moved to other places, to other fields. Use sufficient means to differentiate and embody your paintings. Through this comprehensive capacity, it transmits great messages to us, not only through his canvases, but also through his ability to spread feelings. We know our senses, we open our perception, leading us, with beauty, rhythm and movement, to imagine a little more, beyond the canvases. Providing various manifestations we observe how we can rethink our way of expressing ourselves. Enjoy that look inside. It is a challenge, an inner journey and simultaneously a surprise.
He also transported me to the fight against apartheid, which has been the last year since Jazz was the music of a repressed and exhausted people, until it became a music, increasingly urban and globalized, closely linked to exceptional musicians, each in its own way, each with its own peculiarity, "recognized" worldwide. Jazz can reinvent itself. But its essence doesn't. What remains of Jazz is, above all, an immeasurable will and a need to increase his life and to recognize that everything was worth it, just like the work of Francisco.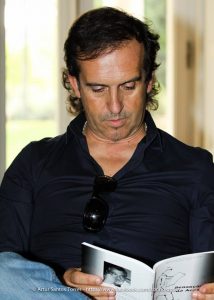 I wanted to meet the one who is one of the great masters of creative art today.... This is the artist I bring, Francisco Fernandes, the artist who signs as XicoFran, also known, as a "jazz painter".
Francisco was born in Angola, in 1969.
In 1994 he finished the Course of Interior Design at the School of Decorative Arts (ESAD). During this period, he began his participation in several exhibitions and painting competitions.
XicoFran has works belonging to the estate of several pure art lovers in Portugal and abroad. His talent has been recognized with several National and International awards, and it should be praised that, based on the continuous and systematic work he has been developing, he has been imposed as a strong and consolidated presence in the artistic world.
Francisco Fernandes is regarded as one of the great talents in the artistic world of his generation. A rich resume artist and consolidated work.
In this exhibition "Free Jazz", you can see 40 works, mostly dedicated to Jazz that reveal their way of being and expressing themselves. The biggest figures of this musical genre are depicted, from Louis Armstrong to Miles Davis, through the voices of Ella Fitzgerald, Betty Carter, Ray Charles, Sonny Rollins, Sarah Vaughan, Blue Mitchell, Charlie Parker, Earl Hines, Freddie Hubbart, George Bensen.
Painting, music and words, in sync, offer this unique virtual exhibition, which no lover of the arts and / or followers of this blog, would decline the invitation to enjoy, without haste, this wedding that crosses jazz and fine arts.
In the exhibition "Free Jazz", there is an intimate relationship between art and words, because there is a lot of word, a lot of "thing" with text that gains some evidence.
Let us start with the words of the artist XicoFran: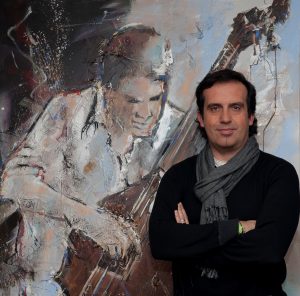 Most artists live almost distressed in the day-to-day, year after year, looking for the reference theme for the development of their work. Sometimes this is almost as or more difficult, than finding your own style or identity, because only by finding that reference, you can find motivation to develop the desired work, and feel in complete balance with your Self.
Many artists never get to find this reference, that is, their theme! It's an ungrateful search! It's something that comes from the soul and you can't explain it. It is the insatiable search of demand itself.
With regard to my journey, something has been done and I would like to share it with everyone. In fact, it was the very theme that found me, or rather, it was Jazz who found me! I felt a certain anxiety about painting something that went around the world of music, because it is something That I have always liked a lot, that stirs my state of mind and my well-being, runs through my veins, being part of my structure and balance. I wanted to move to the screen from an early age all this passion for the vibration of sound, harmony, and the very silhouette of the musicians. But I confess, it was never part of my choice specifically jazz. As life is made up of sharing, not only material, but essentially sensory, I am witness in how a sharing of a feeling can forever change the way of thinking or acting.
That's how it was with me. When I first painted a jazz theme and started doing the first exhibitions, I could not imagine, that I would almost immediately be surrounded by true lovers of this theme, including historians, journalists and musicians who have always encouraged me to continue to develop the theme of Jazz. I can not fail to mention the most important names that contributed to my entire journey: João Moreira dos Santos, the jazz singer Maria Viana, the great Master Luís Vieira Batista, the late Master Ernesto Neves.
During my artistic career I gave more value to the sharing I had with these people than to the prizes won, or to the various honourable mentions, representations in Portugal and abroad, or even several favourable reviews. The friendship and work links I have deprived with some Masters have value in terms of artistic growth and essentially on a personal level. In this context, I could not fail to mention Master Antonio Winter. The Master, with his humility and wisdom, gave me the most important techniques and knowledge, which I still do not fail to employ in my works, namely the balance of the canvases and the magnificent points of Light.
This exhibition demonstrates the commitment, the persistent struggle, the constant search for knowledge and a theme (jazz). Pictorially Managed to earn the respect and consideration of all, although not everyone is passionate about jazz.
My greatest pride as an artist is to feel that my canvases are part of me and become part of those who appreciate them.
Well, there, even Jazz. Xicofran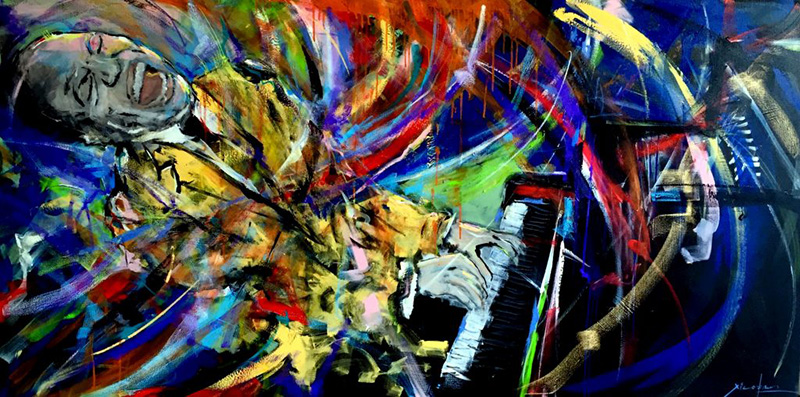 "FreeJazz", in the words of artist Luís Vieira-Batista:
We are in the presence of a large pictorial orchestra, where the swing of the Big Bands and the intimism of earl hines' primordial piano shine singto take us to the great moments of fusion of the end of the last century and where we Portuguese, along with fado, a kind of Caucasian blues, contribute to the musical delight through, among others, Mário Laginha , Maria João, Maria Viana or Jacinta.
Jazz musicians are part of a very special pantheon in the history of music.
The plastic representations of their interpreters made by XicoFran make us, when recognized, associate them with their particular sound: any image with Armstrong, Davis, Fitzgerald, Gershwin, Bernstein, Bensen, Mitchell, among others, immediately connects us to their music.
Jazz has brought a unique freedom of expression in the world's artistic scene. The musician/performer was given the possibility to vary on a theme or even improvise between the known chords of a given composition, both in live performances and in studio records, raising the traditional musical popular form of the question and answer to sublime moments.
It is fantastic to note that its origins appear in conflicting social movements for our species, as was the case with slavery.
Blues and jazz, born in the same adversity, opened the doors of Africa to us, merging millennial civilizations with democracies.
They provide a liberation for their interpreters and an inner journey for those who listen to them, thanks to a song directed more by the baton of the heart, than by the choir of neurons.
But what brings us here is the painting inspired by jazz and not jazz itself, although in this particular case, both intersect.
This theme is only successful when the painter engages with the chords that inspire him, joining the technique to emotion and making them play in tune.
Not everyone can do it like XicoFran: at present, it is even unique in this chapter.
This union of different disciplines, such as painting and music, more than complete, is valued. Except sometimes one plus one isn't two...
If I listen to Miles Davis' "So what," preferably on a rainy day, with a painting in which XicoFran portrays it, I can see the water bumps falling apart in his trumpet, peppering my gray inner rhythm with colors and causing me to sprout a rainbow of soul. When this happens, I turn off the stereo and i keep listening; I close my eyes and I still see it.
Thank you XicoFran, for so good do what you do!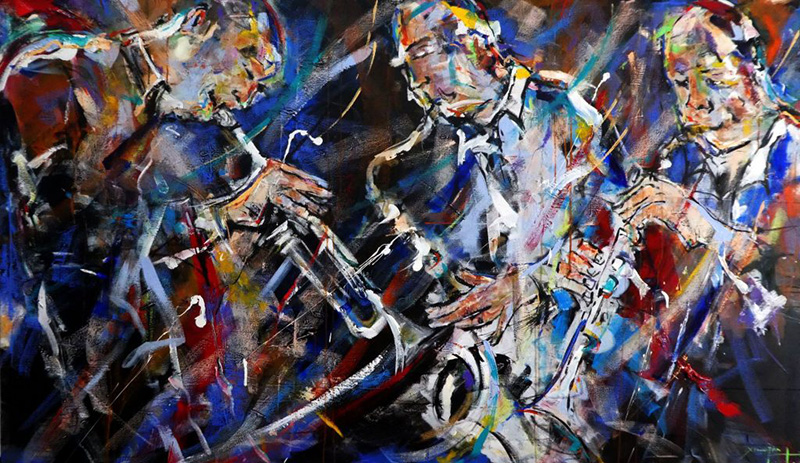 For José-Luís Ferreira:
XicoFran puts at your fingertips all your passion for the simplest things of everyday life, creating true masterpieces that arouse to the purest of our subconscious, an intense curiosity that always culminates with an uncontrollable smile. One of the most striking and recognized features in his painting is the way he manages to represent the movement recommended by the silhouette of a musician, more specifically the Jazz musician, transposing to the screen the entrainment of gestures and all the vibration of the instruments, a theme that dominates with a very personal and very characteristic character and whose technique and trait are already recognized worldwide.
His talent has been recognized with several national and international awards, and it should be praised that, based on the continued and systematic work he has been developing, he has imposed himself as a strong and consolidated presence in the artistic world.
FREE JAZZ OFF, according to XicoFran's painting.
The passionate, pictorial language of XicoFran - when exercised in the free and spontaneous thematic-motivational context, which Music-Jazz, broadly, inspires - is acquired and begins to impose itself, due to its expressive and communal, with certain audiences who appreciate the extremely strong and eloquent audiovisual and performative mix of the genre, perhaps as vast and heterogeneous ... as singular and, unusually, sensitive.
As you know, Jazz has occupied - since the beginning of the admission of its (initially contested) cultural maturity, about a century ago! - a singular position in the theme of Contemporary Portuguese Painting1, although it has rarely deserved such persistent and consolidated importance, in an individual work, as the present case, by XicoFran, has shown.
It is because - of this, for this and, for this vast popularized ecumenical repository of musical worship (instrumental and vocal, soloist and orchestral, choral and human) - that XicoFran extracts and returns the synergistic and dynamic interaction of performative theatricality, facial expression and corporal, fused, in artificial unity, where the multidimensional waves of sound and light are intertwined, the harmonic balance, the rhythm and the beat, the intense auditory vibration and the interpretative virtuosity of Jazz.
From the intuitive and painstakingly exercised radical of his drawing (of risk, of the line, of the specific calligraphic dynamics with which he autographs himself in his painting), a neofigurative representation emerges, simultaneously impressive and expressive, polychrome, where being and being , become gestural, recreating an imaginary vision very specific to the environmental atmosphere and the poetic, sweaty and human sense, where the visual echo that - from jazz - it absorbs and retransmits is mirrored in silent eloquence.
In this sense, a painting by XicoFran, can be considered as a spontaneous and autobiographical writing, although it can be, at the same time, seen as spectacular - by the form and, in the content - through something that, in it, reveals the mysterious emotionality explosive atmosphere of the author, in the solitary intimacy of the studio.
A true, genuine and authentic work of Art, it invades, passively, but invariably, anyone who is minimally predisposed to its acceptance.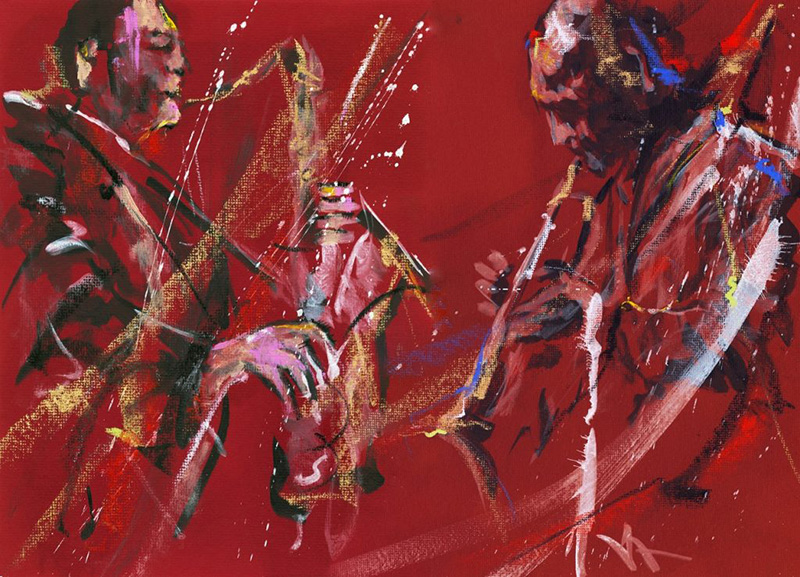 For the purpose of the "marriage" between jazz and the plastic arts of Xicofran, João Moreira dos Santos wrote:
Let us step back, for an instant that is, until the 1920s, the Age of jazz-band, as António Ferro called him, mimicking the famous jazz age of F. Scott Fitzgerald.
When the first echoes of jazz were barely heard in Portugal, some of the most notable young visual artists and illustrators captured his soul, felt his rhythm, guessed his colours and soon moulded him on the screens and in the pages of the Press .
Full of fire and creative breath, equipped with his easels, his paints, his brushes and many canvases, and animated by a confessed musical communion, XicoFran followed in pursuit of jazz, finding him, all over the country . He took his perspective on festivals, concerts and exhibitions, painting it live or in a studio, and illustrating books and projects. He even ended up introducing it to tiles too.
It did not take, therefore, much time for both to become practically inseparable - perhaps even synonymous - since XicoFran's distinctive feature captures, like few others, the movements and idiosyncrasy of the so-called "sound of surprise", constituting an invitation to the fruition of a musical genre that changed the arts landscape of the 20th century. And so, gradually, and without any official appointment or investiture other than his own merit, XicoFran became a true ambassador of jazz manifested in colour and form. His vast work now honours and updates today the work of the masters who preceded him in the long history of more than 90 years of chromatic love between jazz and the fine arts.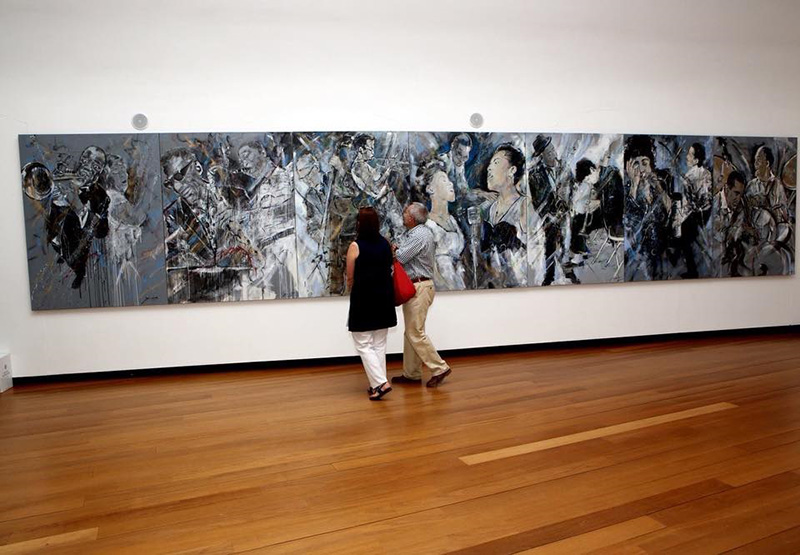 Above all, the innovation introduced by XicoFran should be emphasized, by exposing what is one of the largest canvases ever dedicated to jazz, in which about 10 meters in length fit, under the title "Probable and improbable encounters of jazz", several icons of jazz, including musicians who played together and others that XicoFran brings together for the first time.
See also the interactive canvas - which generates sound when it detects movement of visitors -, the giant rotating chair painted by XicoFran.
For all that has been said, XicoFran's cultural action is to be commended. Through it, in part, jazz - that giant humanist and modernist canvas that began to draw at the beginning of the last century - is reinventing itself and perpetuating from generation to generation. In part, too, it hangs in the many anonymous homes, where it is installed as if it were (and is) an open window that, from the more enlightened awareness of the present, stares at a past that is important to remember for the benefit of a more fraternal future humanity , supportive and conscientious. And in part, still, jazz can continue to exude - for those who see and feel it on the screen - the values of the universal, inclusive and dialogical language that it is.
In this exhibition, in addition to appreciating canvases that portray the best of jazz, carefully chosen, there is also space for another theme: The other side of Xicofran.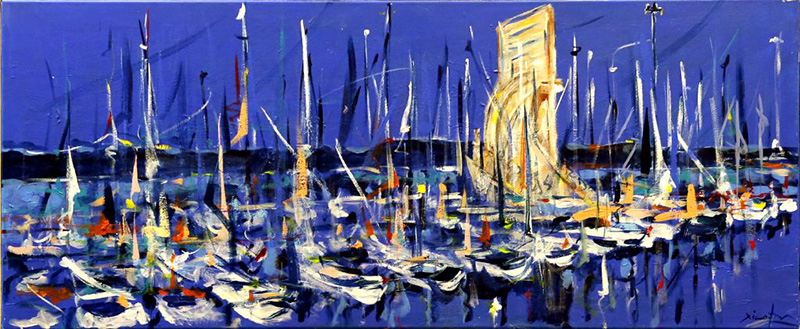 Two jobs providing us with a coexistence from which we derive pleasure, tranquillity and beauty,
…. Lisbon, Tagus and Everything: Everyday Singularities!
PRICES OF CANVASES ON REQUEST!
Feel free to visit the Artist page: XICOFRAN and Francisco Fernandes.
Follow us on Facebook: The Good Life Chases You and on Instagram: @aboavidapersegue_me.
MAIN EXHIBITIONS
YEAR 2011
JUNE - Group exhibition in Barcelona at the "Centro Cívico de Barcelona" with the theme "Arte perl a Pau";
JUNE - Solo Exhibition "Jazz Festival" Galeria Arte on the Estoril Line, with live performances by singers Maria Viana and Pat Escobar accompanied by guitar with guitarist João Maló.
MAY - Commemorative Exhibition of 50 Years of Amnesty International.
MAY - Collective Exhibition Hospital Garcia de Orta, by Artur Bual Circulo Artístico;
FEBRUARY - Artist invited to participate in the commemorative exhibition of Josephine Baker in Portugal, at Teatro da Trindade;
YEAR 2010
NOVEMBER - Live painting at the Coliseu dos Recreios Lisboa (Spectacle Paco Bandeira's 40-year career);
JUNE - Collective Exhibition at Galeria Mafalda D'Eça - ESTORIL;
JUNE - Solo Exhibition "Jazz Moments" Câmara Municipal de Odemira;
MAY - Exhibition "JAZZ" International Art Fair "the ART HAUT-RHIN ALSACE 2010 in France";
April - "Jazz" exhibition at Livraria buchholz Lisboa;
April - Exhibition "jazz" Teatro da Mala Posta inserted in the celebrations of the 30 years of Careira by Jazz Singer Maria Viana;
April - Exhibition "Jazz" Casino do Estoril, inserted in the celebrations of the 30 years of Career of Jazz Singer Maria Viana;
YEAR 2009
OCTOBER - Collective Exhibition at the Cascais Cultural Center with the Polish Painter Mariola Landowska "Through the fado" Exhibition inserted in the celebrations of the 10 years of the death of Diva do Fado (Amália)
JUNE - "jazz" exhibition at Festival Jazz Lagoa (Invited Artist);
JUNE - Jazz exhibition at Teatro Municipal S. Luís in Lisbon, part of the commemorations of Maria Viana's 30 years of career;
MAY - Exhibition of jazz screens on the Auditorium Stage Eunice Muños - during the Concert by Andrea Pozza Trio with special appearances by Maria Viana and Laurent Filipe;
APRIL - Exhibition at the Water Museum in Coimbra
APRIL - Exhibition of the Aula Magna of the University of Coimbra (Awarded works from the 1st Biennial of the International Painting Competition of the Rataria Portuguesa Foundation)
YEAR 2008
December - Cascais Cultural Center, within the scope of 80 years of Jazz in Cascais;
December - Edition of the book of the 100 Contemporary Art Painters (Firts Gallery);
OTHER MOMENTS
2010 - Casa do Gil Invitation (Illustration of the 2010 Christmas Postcard from Casa do Gil), donation to Casa do Gil da Original illustration for Auction at Palácio Sotto Mayor Lisboa;
2009 - Invited artist to coordinate the Painting nucleus of the Artists of the Artistic and Cultural Circle Artur Bual ";
2009 - Distinction Award of the 1st Biennial "INTERNATIONAL PRIZE FOR PAINTING FRP" (2009) FUNDAÇÃO ROTÁRIA PORTUGUESA (in association with Fundação Calouste Gulbenkian)
2008 - Invited artist to illustrate the DVDisco of the "30 years of the Jazz Career of Maria Viana";
2008 - Invited by several Schools to perform Painting Workshops;
2008 - Casa do Gil Invitation (illustration of a Christmas Card);
1994 - Interior Design Course, ESAD Lisboa;
1995 - Young Artistic Revelation Award from Amadora delivered by Artur Bual;
1994 - Winner of "ARTES", C.M. Seixal - Seixal;
1993 - Winner of the "Grande Prémio de Pintura", BANIF Lisboa.